Raise your hand if you're not earning a high salary. Me too. I deliberately chose a low-paying career track when I graduated from college. As much as I hate to admit it, wildlife biologists just aren't paid the same as software engineers—even when I do have a job. Right now I'm self-employed.
What's worse, I have a ton of debt. The odds seemed stacked against me and countless other young people: we earn lower wages than we'd hoped, and we face a mountain of debt. It's no wonder we can't afford a home even if we wanted one.
But, am I totally blocked out of the housing market? Thanks to Credit Sesame's tools I was able to check and see if I can afford a home.
I was surprised by what I found.
If you're a low-income earner too, here's what you can do to check how much home you can afford and some steps to take to boost your home-buying power.
How low is your income?
First, make sure your income is entered correctly to get the most realistic offers possible. After you log into your Credit Sesame account, head over to the My Finances tab. You'll see a circle chart on the left-hand side with a wee bit of text underneath it, labelled Your Gross Income. See if it's accurate, and if not, change it.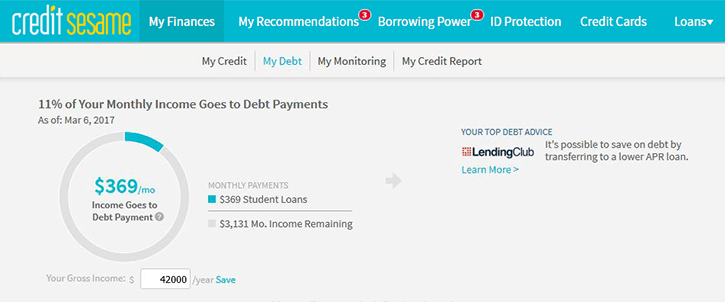 I decided to try two scenarios: entering just my income alone first, and entering in my household income, me and my husband combined, second. Our household income is, of course, much higher, but my husband recently went through a deed-in-lieu of foreclosure process and won't be eligible for a mortgage for another three years. I wanted to see what kind of mortgage I can get if I apply alone, and what I'll get if I wait until after my husband is eligible for a mortgage, when we'll presumably earn even more.
How much home can you afford?
After your income is entered correctly you can see how big of a mortgage you are likely to be approved for. Head over to the Borrowing Power tab and scroll to the bottom. Here's what I can afford on my current income alone: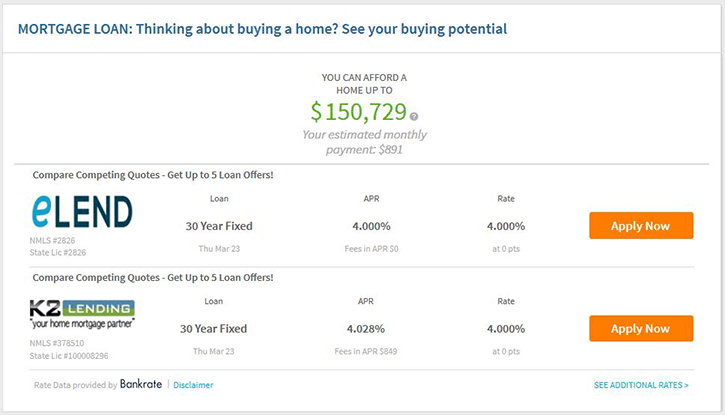 $150,729—not bad!
Is this a financially responsible number though? Just because you can afford a huge loan doesn't necessarily mean you'll have an easy time paying it back. Experts recommend that you spend no more than 30% of your take-home pay on housing.
With my low income, that translates into a monthly payment of no more than $1,050. By searching for a monthly mortgage payment calculator online and assuming a 3.5% down payment (the minimum amount for an FHA loan), my monthly payment would be $953.68—just under the 30% threshold. Theoretically, I could swing the payment.
What kind of home can I afford with this price tag?
Unfortunately for me, I live in Fort Collins, Colorado. It's a great place. Everyone thinks so. That's why housing prices are so high here. The median home price in March 2017 was $346,300—well beyond my reach.
A quick Zillow search shows that on a $150,729 budget I have few options in my area. I can choose between a miniscule 500 ft2 condo or a cheesy run-down trailer.
What are my options if I don't like the homes I can afford?
Luckily, you're not out of options if living in a tiny cell or a roach motel doesn't appeal to you.
Continue renting and save up a pile of cash
You can always continue renting. In the meantime, work towards saving up some cash towards a down payment. That'll both reduce your monthly mortgage payment (because you'll be taking out a smaller loan), and cut out the cost of private mortgage insurance (PMI) from your payment, which most lenders require if you pay less than 20% down. PMI can easily tack on over a hundred dollars a month to your payment.
Move to a cheaper area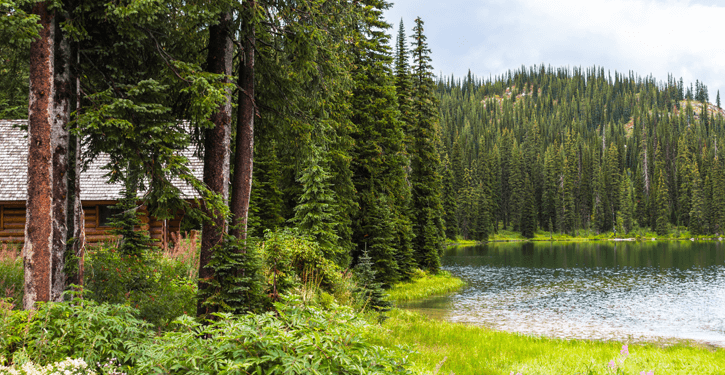 You can also move an area with a lower cost-of-living if you've got a flexible job or a highly marketable skill set. Places in the Midwest and the South are generally cheaper. Check out this cool map of home prices across the country. A $150,729 mortgage buys a very nice house in other parts of the country, but not in the little heat island I sit in here in Fort Collins.
If I were to instead move back to my hometown of Traverse City, Michigan, I could buy a lot more house on a low income. Zillow shows a nice 1,000 ft2 home in my price range right in the center of town. The 900 ft2 log cabin in the middle of a forest (yet still a quick drive to town) on a lake would be more to my liking, though.
Find alternative loan options
You can also search out flexible mortgage programs. Fannie Mae, for instance, offers mortgages to low-income borrowers through their HomeReady mortgage program. They'll let you get a loan with a down payment as low as 3% (watch out for PMI though), and they're flexible in their definition of "income," so you can include things like side hustle income or gifts.
Earn more money
Finally, you can also just figure out a way to earn more money. This is probably the best option, because it'll improve your overall financial picture. Still, it's easier said than done, right? But, you can do things like ask for a raise at work, change jobs to a higher-earning position (if you can), get a second job, or start a side hustle.
You can edit your yearly income under the My Finances tab to see what salary you'd need to make to afford the kind of house you want. Once my husband is eligible for a mortgage again, for example, we'll likely be making upwards of $109,000/year together. If that turns out to be accurate, we'll be able to afford a mortgage of $490,736 and buy a fantastic home in our area.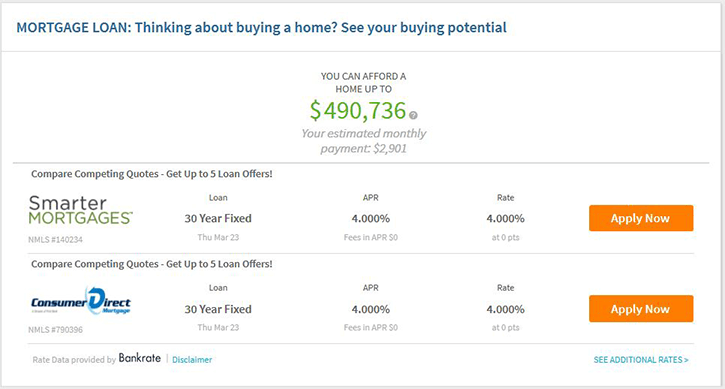 You always have options
If you followed along with this exercise, maybe you were surprised at the size of mortgage you can get. Just because you may or may not be able to afford the home you want right now doesn't mean you're a success or a failure. For many people in the US, renting is a better option. Only you can make that decision, though, after you find out how much of a mortgage you can afford and whether that amount fits in with your financial plans.