Credit Sesame on whether a falling consumer price index means inflation is dead.
For most of the past two years, inflation has weighed on consumers, investors and businesses. But the latest Consumer Price Index (CPI) report indicates that prices are falling rather than rising.
Does the recent decline in CPI mean the monster has been slain? Can consumers, investors, businesses and the economy live happily ever after because inflation is dead?
Maybe, but inflation can be a stubborn enemy and, like the proverbial wicked witch, may have more tricks up its sleeve. Consumers should perhaps take a cue from the Federal Reserve, which is unlikely to let its guard down just yet.
Still, December's CPI report represents a step in the right direction – largely because it continues a trend that's been fin the making for six months. If that trend continues, it could ease some of the economy's troubles.
Consumer prices declined in December
On January 12, the Bureau of Labor Statistics announced that the CPI declined by 0.1% in December. That means that consumer prices fell a little on average during the month.
Even with December's decline, the CPI was still up by 6.5% for 2022. That's a high rate of inflation but an improvement on the 7.0% rise in CPI in 2021. The twelve-month inflation rate peaked at 9.1% in June 2022, the highest 1-year inflation rate since November 1981.
The improvement in the inflation trend is even better than the full-year numbers suggest. Here's how that trend looks when you look at the first and second halves of 2022.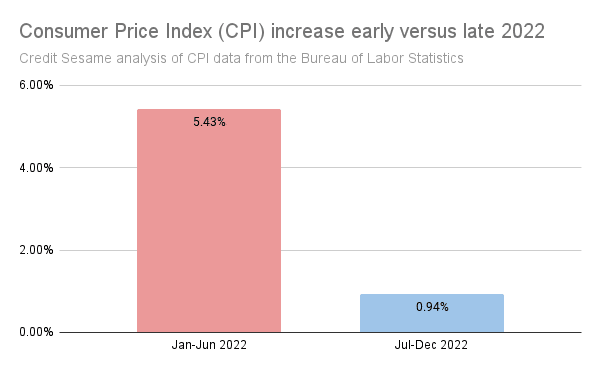 Looking at it this way, inflation didn't just ease a little in 2022. It all but disappeared in the second half of the year.
How lower inflation could ease other economic problems
Consumers find slowing price rises very welcome. There are benefits beyond halting the steep rise in the cost of living. Lower inflation could:
Allow interest rates to fall. Rising prices weren't the only cost increases consumers faced last year. When inflation rises, many lenders respond by hiking the interest rates they charge on credit. In 2022, 30-year mortgage rates more than doubled. The average credit card rate rose by nearly 4%. These additional costs were especially challenging as consumers borrowed more than ever to cope with higher prices. Credit rates are unlikely to ease until inflation subsides.
Lead to a less restrictive Federal Reserve. The Fed raised rates sharply last year in an attempt to cool off inflation. The downside is that this tactic is based on dampening economic activity. As a result, many experts consider a recession to be inevitable. The sooner the Fed can stop raising rates, the better the chance of avoiding a severe recession.
Core CPI suggests inflation may not go quietly
While inflation looked a lot less ferocious over the past six months, a closer look at the inflation report suggest
December's decline in the CPI resulted mainly from a big drop in the price of gasoline and fuel oil. Just about every other component of the CPI rose during the month.
Since energy and food prices can be especially erratic from month to month, economists sometimes look at what they call the "core" inflation rate. This is the CPI minus the energy and food sectors.
Core CPI rose by 0.3% in December. That may not sound like much, but it would translate to a 3.7% annual inflation rate. While that would be an improvement from last year's inflation, but it's still nearly twice the Fed's 2% inflation target.
A fair argument against excluding food and energy from inflation measures is that no one can get through a month without food or energy. Notably, the food component of CPI also rose by 0.3% in December.
In fact, other than a steep drop in energy prices over the second half of the year, inflation continued to be fairly high.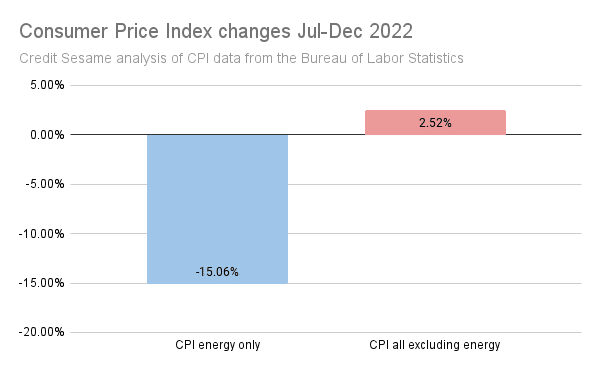 Remember that overall inflation was 0.94% in the second half of 2022. However, everything other than energy was up by 2.52%. This translates to a 5.11% annual inflation rate.
The fact that inflation continues to run hot in most sectors is important. The more widespread inflation is, the more likely businesses and workers are to demand price and wage increases to keep up.
Consumers may need to prepare for more challenges in 2023
In 2023, consumers may see that inflation is weakening but it isn't dead, yet. Even with weaker inflation there are still challenges.
Price increases are unlikely to reverse
Even if the period of high inflation is over, most prices are not going to drop back to where they were before it started. Periods of deflation, which means falling prices, are fairly rare.
The best consumers can hope for is that prices stop increasing as quickly as they have over the past couple of years. Consumers still have to cope with price increases that have already occurred. For many, that involves adjusting budgets to reduce spending under their take-home pay.
Interest rates will be slow to fall
Both the Fed and lenders want to be sure inflation has faded before lowering interest rates. Like the Fed, lenders generally were taken by surprise when inflation surged. That meant their interest rates got behind inflation. Once they get back ahead of inflation, they'll try to stay there.
This means that even as inflation numbers decline, the cost of borrowing is likely to stay elevated for most of 2023. That means consumers would do well to borrow less and pay down debt balances. It can also help to work on your credit score, in order to qualify for better interest rates.
It may be too late to avoid a recession
Even assuming the Fed slows its pace of interest rate increases, it may already have dampened demand enough to cause a recession. By this point, a recession is so widely expected that it may become a self-fulfilling prophecy. As business owners prepare for a possible recession by cutting staff and reducing spending, the resulting drop in economic activity might make a recession unavoidable.
Though the job market has remained strong, several big companies announced layoffs in early 2023. This is a good time to build up your emergency fund, so you're ready if a career setback arises.
The potential for price shocks in a troubled world
Inflation may be slowing down, but it doesn't take much to upset the apple cart. For example, the war in Ukraine disrupted food and energy supplies. This situation could get worse before it gets better. As China reopens its economy after stringent COVID lockdowns, it could disrupt global prices.
Uncertainty in the world economy means that consumers are wise to run a tight household budget that they can adjust on the fly. Unexpected price increases may make it necessary to cut spending by eliminating unnecessary items and finding cheaper alternative food, goods and services in 2023.
If you enjoyed Inflation is Dead … or is it?, you may be interested in:
---
Disclaimer: The article and information provided here is for informational purposes only and is not intended as a substitute for professional advice.