Credit Sesame with some travel savings tips to keep your vacation travel budget down in 2023.
Inflation has been tough on household budgets. It gets even worse when you leave home. Credit Sesame analyzed data from the Bureau of Labor Statistics, and found travel-related price increases have generally exceeded the overall rate of inflation: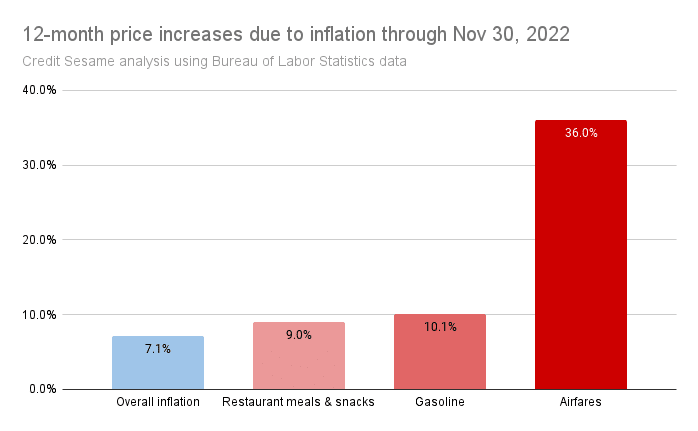 This doesn't mean you should forget your travel plans for 2023. You can just be price-conscious tips and keep travel costs within your budget. Here's how.
1. Go against the flow
This applies to when you travel and where you travel. The most popular destinations draw the biggest crowds and charge the highest prices. That includes airfares to those places and hotels in the area.
Think outside the box. Choose a city, a beach, or an amusement park that's a little less obvious. You save money, and there are fewer crowds.
The same logic applies to travel. Travel outside major holidays or during spring break. In particular, empty-nesters are not bound to school vacation schedules and can use that flexibility. Traveling off-peak often means cheaper airfares and hotels – not to mention a more peaceful visit.
2. Plan ahead – way ahead
Airlines take advantage of business travelers who need to schedule last-minute trips. They know they can charge more for late reservations.
In general, airfares are cheaper if you reserve well in advance. This might also help you take advantage of special promotions on hotel rates.
3. Now's the time to use your rewards
Do you have credit card rewards points sitting around unused? Now's the time to redeem them.
In a high-inflation environment, unused rewards points are quickly losing value. Rising prices mean those points may buy you less a year from now than they do today.
Look through your reward credit card statements and check the point balances. Figure out how to harvest those points and apply them to your travel costs.
4. Build rewards points before and during your trip
Speaking of credit card rewards, if you have a trip coming up, use the credit cards that provide the most benefit. This includes the months leading up to your trip and when you travel.
Different credit cards have different features. Increasingly, rewards cards offer extra points for specific category purchases. Knowing which cards to use can help you maximize those bonus points. That results in a bigger stockpile of rewards points to use against your travel costs.
Playing your cards right doesn't end when you depart for your trip. Travel often involves heavy spending. Figure out which cards offer the best rewards for hotels, airfares, rental cars and other major expenses. Make sure you use the right card in the right situation so you come back from your trip with a healthy point balance.
It is never a good idea to buy something only for the rewards points. But, if you plan to buy something anyway, it makes sense to get the most points you can by paying for it with the right credit card.
5. Use private rentals instead of hotels
The growth of private vacation rental services like Airbnb and VRBO gives you more choice in where you stay.
That may allow you to avoid the pricey hotels in popular tourist destinations. Besides paying less for lodging, you may find much more comfortable accommodations than the small hotel rooms common to many large cities.
On top of that, you then have the option of making some meals yourself instead of eating out or ordering in all the time. That saves you more money and may be more convenient.
Before you book a private rental, check its review history. Look for properties that have been well-tested by other travelers who had positive experiences.
6. Check the foreign transaction fees on your credit and debit cards
If you travel to another country, be aware that some credit cards charge fees for transactions in a foreign currency. That means you pay extra every time you use your credit card.
Fortunately, some travel-friendly cards don't charge foreign transaction fees. Know the policies of your credit cards before you travel, so you can avoid foreign transaction fees.
7. Avoid baggage charges
Recent years have seen airlines charge extra for checked baggage or bags above a certain size. If you budget carefully for your airfare, you want to avoid being surprised by extra charges when you arrive at the airport.
Before you pack, find out the size restrictions for carry-on bags. Also, check on the airline website to see what any extra bags will cost you.
Try to travel as lightly as possible. If you have to check bags, try to consolidate bags as much as possible. Instead of two family members each having a small extra bag, pack all their stuff into one larger bag. As long as that larger bag doesn't exceed the airline's size and weight restrictions, you pay one extra fee instead of two.
Depending on your accommodation arrangements, you might even be able to ship your baggage to your destination in advance. In some situations, this might be cheaper than paying a checked bag fee – and leave you with less to lug around the airport.
8. Pack travel snacks
When it's time to leave for the airport or get on the road for a car trip, pack some snacks.
This has a dual purpose. It allows you to avoid higher prices at airport restaurants and highway rest stops. Also, it's good to have a little food on hand in case of long flight delays or other emergencies.
When you fly, be aware that there are restrictions on how much liquid you can bring through airport security. However, your sandwiches and chips should be fine.
9. Don't use ATMs in airports or hotels
ATM charges in airports and hotels are typically higher than at regular bank ATMs.
If you need to carry cash, think ahead and get some before heading for the airport. Or, instead of using a machine in your hotel lobby, walk around the corner to find a bank's ATM. It also helps to know what ATM network your bank uses so you can avoid any fees for your transactions.
10. Use local transportation instead of cabs
Cabs lined up in front of a hotel remain a common part of the travel landscape. For budget travelers, using cabs is not the most cost-effective.
Ride-sharing services like Uber or Lyft may offer a cheaper alternative. Better yet, local bus and rail transportation may be options.
In major cities local rail transit may get you from place to place much faster than a car traveling through the traffic grid. This may not be the best solution when you are burdened with bags on your way to and from the airport. But for your trips around town, it can be a dollar-saver. Using public transportation in holiday destinations makes memories. Think of riding the subway in New York, the underground in London or the metro in Paris. These are experiences not to be missed and keeps your travel budget down.
If you enjoyed 10 Vacation Travel Savings Tips for 2023 you may be interested in:
---
Disclaimer: The article and information provided here is for informational purposes only and is not intended as a substitute for professional advice.