Credit Sesame on 2022 holiday travel and inflation. Have your travel plans been impacted?
After two years of having travel inhibited by COVID, a trip home for the holiday season is on many wish lists. Unfortunately, travel costs are especially high this year.
If you want the lasting memories of your visit to be of fun and festivities and not the debt incurred for your trip, you may like to pay special attention to managing travel costs this year.
Holiday travel is back in style
Consumers are traveling more than ever now that pandemic restrictions are lifted.
According to a survey by consulting firm PwC, before COVID roughly a third of consumers took a seasonal holiday trip. This year, 47% plan to take planes, trains and automobiles to visit their loved ones.
Millennials in particular are eager to travel. 63% of them are planning to pack their bags and get out of town for the holidays this year.
69% of people taking a holiday trip plan to do some of their traveling by car this year. 46% are flying. Air traffic in particular has rebounded from the pandemic with a vengeance. Only 33% of holiday travelers flew in 2020, and just 40% in 2021.
It's wonderful that people are comfortable with traveling, but keep in mind that you can expect crowded highways and airports.
Travel costs are up even more than inflation in general
You may be able to escape for a break but you cannot escape inflation, even during the season of goodwill. You may find that travel costs are up even more than prices in general.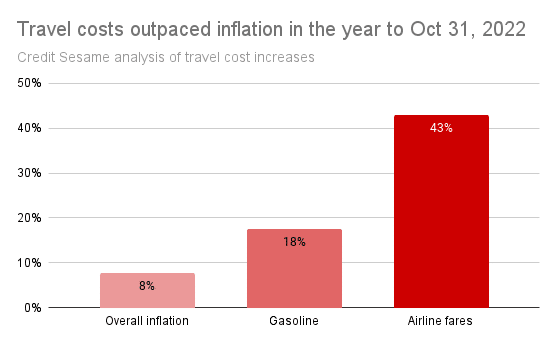 The chart is based on Consumer Price Index data from the Bureau of Labor Statistics. Overall inflation was 7.7% over the past 12 months. That's bad enough, but travel costs are up by a much greater amount.
The cost of gasoline jumped by 17.5% over the past year. Even that is nothing compared to the way air fares have taken off. Those are up by 42.9% in twelve months.
With travel costs like that, it's easy to understand why the Grinch chose to travel by sleigh pulled by his dog Max.
6 Tips for handling the high cost of travel
If you don't have a dog-sleigh handy, here are six things to try to keep travel expenses down this holiday season.
1. If you can't book early, look for late deals
Travel experts recommend making airline reservations at least 21 days in advance. If it's too late to do that, your best bet is to be flexible and scan online travel sites for late deals.
Adjust your travel dates to take advantage of the best deal rather than locking into one particular flight. Also, consider whether there may be nearby airports that offer cheaper flight alternatives.
2. Traveling on a holiday can beat traveling around a holiday
People generally like to arrive in time for a holiday. That's understandable, but sometimes going against the grain can be easier on your budget.
Because people don't generally plan on flying on the holiday itself, air travel on a major holiday can be cheaper than on the days leading up to or immediately following it.
You may also find the airports to be a lot less crowded. A more affordable and more pleasant travel experience may more than make up for the adjustment of celebrating the holiday a day late.
3. Staying with relatives can take the edge off of cost
It can be nice to pamper yourself by staying in a nice hotel. However, the cost involved may be more stressful than it's worth.
Since the idea of traveling for the holidays is to spend time with friends and family, why not lean into it by staying over at their homes? It's just for a few days, and it might bring back some nostalgic memories.
4. Short-term rentals can be a good alternative
If you don't fancy sleeping in your old childhood bed, look at short-term rentals through sites like Airbnb and Vrbo as a cheaper alternative. You may find more relaxed and roomy accommodations than a high-priced hotel. And without queueing up for the bathroom at your parent's house.
5. Use cash – or have a plan for paying back what you borrow quickly
It's not just travel costs that are up a lot this year. Credit card interest rates are up by nearly 2% this year, to 18.43%. That's the highest they've ever been in the 28 years for which the Federal Reserve has this data.
That high-interest rate can add a big chunk to your travel expenses if you add them to your credit card balance. With rates continuing to rise, it's especially important to avoid long-term credit card debt these days.
The best way to do that is to save up for your holiday travel throughout the year. It may be too late to do that this year, but keep it in mind for next year.
If you have to take on credit card debt to finance your holiday travel, plan your budget to pay it off sooner rather than later. You can limit the interest cost if you can pay off your balance within a few months.
6. Keep an eye on your credit limits
One thing to watch out for if you use a credit card to pay for holiday travel is how much of your credit limit is in use.
You may find yourself bumping up against your credit limit at this time of year. That's not just because of what you spend on gifts and travel. It's also because hotels, rental car companies and even gas stations sometimes put a temporary hold on some of your credit to make sure their charges are fully covered.
Using up all of your credit limit can result in having your card denied. That's especially inconvenient when you're out of town. Plus, using a high proportion of your overall credit limit is bad for your credit score.
Ideally, ensure you have plenty of credit available as you head into this holiday season. One quick way to do that if you have a good payment history is ask one or two of your current credit card companies to raise your limit.
The idea isn't to spend up to that new limit. It's simply to give you an extra cushion to allow for credit holds when you travel and to keep your credit utilization ratio low.
Making the right financial moves can make the holidays less stressful. Plus, it allows the good feelings to last even once the bills start arriving in January.
You may also be interested in:
---
Disclaimer: The article and information provided here is for informational purposes only and is not intended as a substitute for professional advice.