Credit Sesame on what you might include in a budget makeover this New Year.
There are plenty of rituals associated with the start of a new year. Counting down to midnight at a party, college football bowl games and making New Years resolutions are common ones. Remaking the household budget may be a good new tradition to start this year.
Ideally, you need to update your budget every year. The reality is people often don't. With the same-old income and expenses, you may not see the need to change.
2022 to 2023 is different. Several things have changed radically over the past year. Prices, borrowing costs and income may be far from what they were when 2022 started. To keep up with the new financial reality without creating debt and credit problems, it may be a good idea to update your budget before the start of 2023. Here are six reasons for a budget makeover in 2023.
1. Prices are much higher now
In 2022, each trip to the grocery store seemed a little more expensive than the last one. Inflation is nothing new, but the speed at which prices have risen over the past year is faster than most people are used to.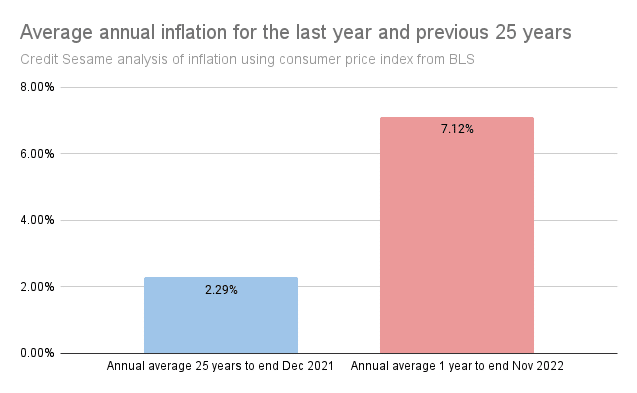 The chart is based on seasonally-adjusted Consumer Price Index (CPI) numbers from the Bureau of Labor Statistics. It compares the annual inflation rate over the past year with the previous 25 years. Whereas people had become accustomed to inflation of just 2.26% a year for the previous 25 years, the CPI has risen by 7.76% over the past year.
With such unusually large price increases, your routine purchases may no longer fit into your budget. This means you may need to rework your budget to see can stay and what has to go.
2. Price increases have been uneven
Inflation has hit some sectors much harder than others. Used cars and clothing have seen moderate price increases. However, if you spend hours on a daily commute or often travel by air, inflation has seen prices soar for you. This chart shows the price increase over the past year for some components of the Consumer Price Index.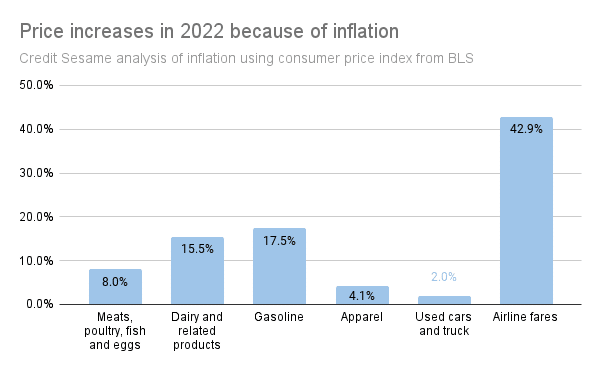 From a budgeting standpoint, this means two things:
To the extent you have choices, you may want to plan on avoiding categories that have seen especially steep price increases over the past year
If you rely on categories where prices have gone up a lot over the past year, you may need to plan on making significant cuts to other areas of your household budget
3. Borrowing costs have risen
Since the 4th quarter of last year, the average interest rate charged on credit card balances has risen from 16.44% to 18.43%.
That means the cost of borrowing is now higher. The more you pay in interest, the less you have to spend on new purchases.
This requires some adjustment to your budget. Ideally, you should try to set a budget that doesn't rely on borrowing. That allows you to avoid additional interest charges. Otherwise, you need to cut other areas of your budget to plan for higher interest charges on your credit card bills.
4. Debt loads are higher
Credit card debt in general is at an all-time high. If your balance has risen over the past year, you are paying more credit card interest even if you can avoid new borrowing.
That may force some other spending out of your budget. An alternative is tightening your budget and bringing your credit card debt down. That leaves you more money to spend in the long run.
5. Wage increases are improving
The chart shows Bureau of Labor Statistics data on the percent change in average employee compensation. Over the ten years to the end of December 2021, these have typically increased at 2.9% a year. Over the twelve months to the end of November 2022, this has risen to 5.1%.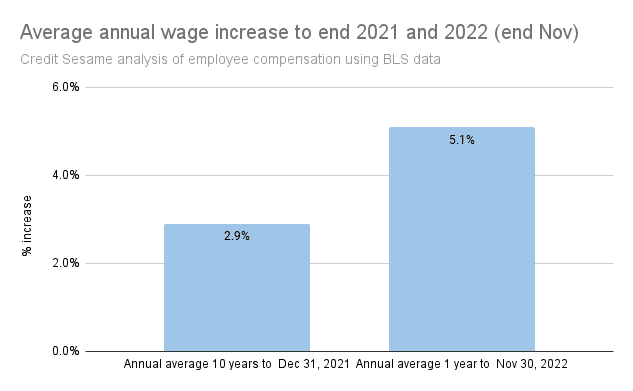 Naturally, it's good news for employees when wages rise faster than usual. However, the rate of increase over 2022 does not come close to keeping up with inflation over the same period.
This means two things for household budgets:
You may have more income to work with than expected
You may still have to make budget cuts to accommodate rising prices
6. The threat of recession calls for an extra cushion
How much of a cushion should you save for an unexpected expense? If you plan for outgoings to equal your after-tax income, a loss of income or a surprise expense would push you over budget and into debt.
Several economists are forecasting a recession for 2023. The sense is that the steep rise in interest rates this year is going to make it very hard for the economy to keep growing.
Should a recession happen, unemployment will likely rise – and household income will take a hit.
It may be wise to build a little extra cushion into your budget for next year to allow for the possibility of being out of work for part of the year or for any emergency expense.
Adverse conditions like inflation and an uncertain economy make budgeting more challenging. Make it a New Year's resolution to be prepared for whatever financial surprises 2023 may bring.
You may also be interested in:
---
Disclaimer: The article and information provided here is for informational purposes only and is not intended as a substitute for professional advice.