The holidays can inspire feelings of excitement and dread, depending on how prepared you are to pay for them. Last year, Credit Sesame conducted a poll to find out how financially ready people are for the holidays and surprisingly, we found that 32% of respondents didn't set a budget for spending.
If you've overspent in years past and you're determined not to repeat that mistake, save money now to get ahead of the holiday rush. Savings get you through the holidays without blowing your budget, lowering your stress and elevating that holiday happiness.
Where should you put your holiday savings?
Stuffing it under the mattress is one option but a high-yield savings account is the better choice if you want to keep your cash safe while earning a competitive annual percentage yield (APY). With so many banks to choose from, however, it can be tough to narrow down the field. Luckily, Credit Sesame has the tools you need to find the best rate on your savings just in time for the holidays.
Your secret weapon for saving: the Credit Sesame dashboard
If you're not already a Credit Sesame member, you may not know that one of the perks of membership is having access to a personalized dashboard. This dashboard includes key information about your credit and debt, including your credit score and free credit report card. Here's a quick glimpse at what the dashboard looks like: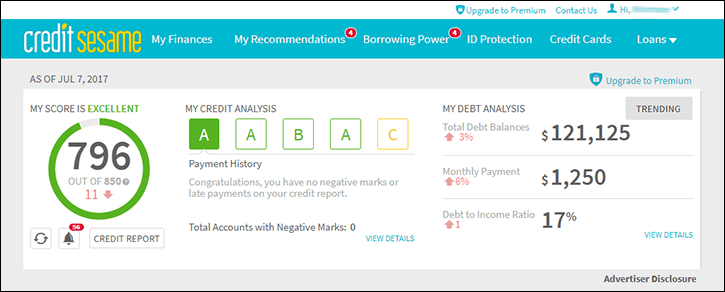 The dashboard really comes in handy when you want to learn more about what goes into your credit score, what helps your credit, what drags it down and how much of your income goes to debt repayment each month.
Another reason to use the dashboard is that you get personalized recommendations for improving your credit, getting a better interest rate on your debt, finding lenders when you need a loan and yes, finding a new bank account.
Why change banks?
If you've got your money in a run-of-the-mill savings account at a major national bank, you're essentially letting them park your money for free. Most major banks pay about one one-hundredth of one percent.
It's your money. Why not find a bank that pays you a better rate?
How to find good savings accounts on Credit Sesame
When you log in, your dashboard displays various tabs, one of which is titled 'Loans'. If you click on that tab, you can scroll down through a list of options to head straight for the banking page.

Click over to explore great banks.
You can even filter recommendations, based on the type of account you need and the amount you have to open an account.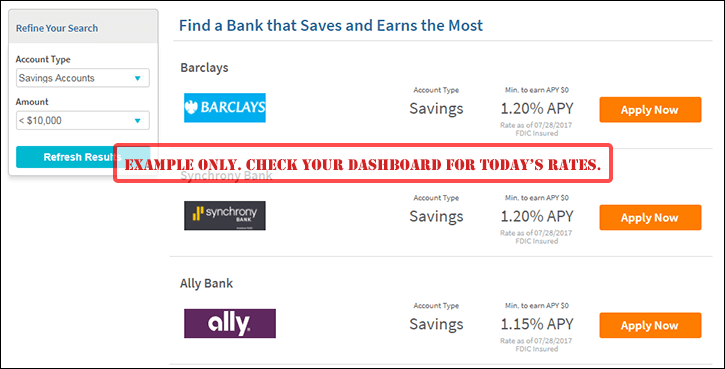 The banks I found today on Credit Sesame pay more than one hundred times more interest than the national bricks-and-mortar bank near me.
You can see at a glance the latest annual percentage yields each bank offers, and the minimum amount needed to earn that APY. If you see a bank that piques your interest, you can click right through the dashboard to go to the bank's website to open an account.
In just a few clicks of the mouse you can set up your savings fund online, and start earning the most competitive interest rates.
Budget for the Holidays Now
The holidays are still a ways away but it's not too soon to start thinking about how much you want (or don't want) to spend.
Make your gift list, including a spending cap for each person.  Include any expected Secret Santa or office exchange gifts you think you'll buy, plus a budget for meals and decorations. The total represents your target savings goal.
Set a deadline. Then you can figure out how much you need to save each week to reach your goal.
The better your plans, the less chance you'll suffer from a holiday spending hangover.