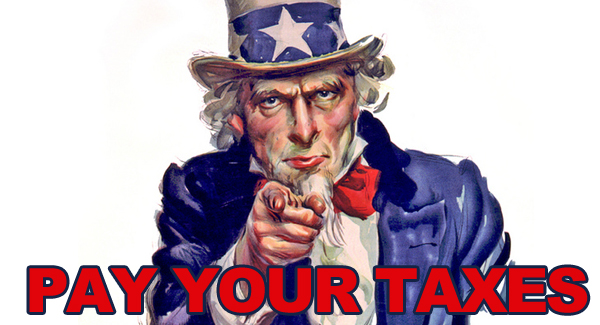 (Image by Donkey Hotey)
Uncle Sam wants you to file your taxes, and if you owe, pay for them.
That story never changes — but the dates you have to file by actually change on a regular basis.
Take the tax filing date for 2012. This year, that date is today, April 17 – an extra two-day extension on the normal deadline of April 15. There are two reasons for the 48-hour delay:
April 15 fell on a Sunday.
Yesterday, April 16 was Emancipation Day, a holiday celebrated officially by the District of Columbia – the home of the Internal Revenue Service, whose employees technically had the day off.
However, if the two additional days weren't enough time, there is another option:  You can get an automatic four-month extension of time to file your taxes, giving you until August 15, without a late filing penalty by filing IRS Form 4868.
Extensions should be filed whether you have a balance due or are expecting a refund. Past that, Uncle Sam has some specific guidelines on how to file an extension.
Let's take a look:
Extension Filing Guidelines:
To avoid a late payment penalty, pay at least 90 percent of the tax due on your return through withholding or estimated tax payments before the original due date of your tax return, or with Form 4868.
To avoid interest charges, pay the entire amount of tax due on your return by April 17, even if you are filing an extension.
After filing an extension, your tax return is due on August 15. You can also get an additional two-month extension by filing Form 2688, Application for Additional Extension of Time to File, making your new due date October 15. The IRS will expect a good reason why the first extension was not enough, and the agency may deny your request. August 15 is the last day for filing Form 2688, but you should allow extra time so that you can file your return by August 15 in case the IRS denies your request.
Note: You may need to file a separate filing extension form for your state tax return, so be sure to check your individual state tax requirements.
The IRS is fairly liberal about why you need the extra time. Consequently, an automatic extension may be filed for any reason. However, you need to estimate the amount of your tax liability, report it on Form 4868, and pay as much of any balance due as possible. An extension will be granted even if the balance due is not paid in full. Your extension must be postmarked on or before midnight tonight, April 17.
One more thing…
If you can't pay Uncle Sam what you owe by midnight tonight, go ahead and file your tax return and pay whatever you can. The IRS will bill you for the rest. Remember, though, Uncle Sam charges interest — you'll owe interest on the balance, and you may owe a late payment penalty.
No question about it, having some extra time to file your taxes may be the difference between filing your taxes accurately, and keeping your tax picture in line, or inaccurately, where mistakes are made that can dig deeply into your bank account.
So go ahead and use the time wisely. It's perfectly legit with the IRS.
Related Stories:
Join The Discussion
Become a vital part of the SesameThrive community and share your experiences and insights.
You can trust that we maintain strict editorial integrity in our writing and assessments; however, we receive compensation when you click on links to products from our partners and get approved.
Published April 17, 2012
•
Updated: March 15, 2017
Related Links