Credit Sesame debates whether you should apply for a credit card or loan before the next recession.
The U.S. economy shrank in the first half of this year. Officially, the economy is not yet in a recession, but the threat of one is very real. If the economy does lapse into a recession, it could become much tougher to get credit.
If you anticipate needing a loan in the months ahead, or have been thinking of adding a credit card account, it might be easier to get approved before the economy worsens.
Applying for credit before a recession hits can help your chances of approval, but that's just part of the battle. You also need to assess what a recession would do to your ability to keep up with your debt payments.
Today's economy poses real risks to your ability to get credit and to use it successfully.
Just how risky is the economy?
There is conflicting information about how close the economy is to a recession.
So far, the most troubling sign has been that U.S. Gross Domestic Product (GDP) declined in both the first and second quarters of this year, after adjustment for inflation.
Though the declines were slight, they are a serious warning sign because a declining GDP characterizes a recession. However, since GDP fluctuates up and down pretty frequently, it's just a question of how long or deep a decline needs to be before it's considered a recession. The economy isn't there, yet.
The more optimistic sign is the persistent strength of the job market. Employment has now climbed for 28 straight months. Through August, a net total of over 3.5 million jobs had been added this year.
While the performance of the economy has been a mixed bag, there is reason to be concerned that it may worsen. Interest rates have risen steadily in 2022. As borrowing costs rise, it has a dampening effect on demand. At some point, higher interest rates might discourage demand enough to cause steeper declines in economic activity.
The root cause of those higher interest rates is high inflation. Beyond pushing rates up, high inflation generally causes problems for the economy. GDP growth is measured after adjustment for inflation, so the higher inflation goes, the harder it is for GDP growth to exceed it.
What happens to credit in a recession?
A recession is not yet certain, but it is a very real possibility. People who expect to be seeking new credit need to consider what a recession does to the availability of loans and credit cards.
When an economy enters a recession, it generally becomes much more difficult to get credit. Lenders become more cautious and raise their credit standards as a result.
The effect of the Great Recession (2007 to 2009) on lending standards is a good example. Using data from the Federal Reserve Bank of New York, Credit Sesame compared the median credit scores required to get a mortgage just before that recession started with the median by the end of the recession:
The median credit score for people getting a mortgage rose by nearly 50 points during the recession. This reflects the caution lenders showed. In a tough economy, many risk lending only to people with very strong credit.
While the change for auto loans wasn't as dramatic, those credit standards moved in the same direction. Over the course of the Great Recession, the median credit score required to get an auto loan rose by 14 points: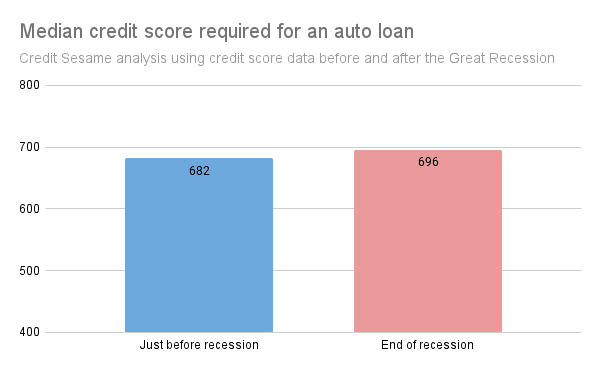 As a result of lenders demanding higher credit scores, the portion of mortgage volume going to low-credit applicants dropped sharply during the Great Recession. People with credit scores under 620 went from representing over 10% of mortgage volume to less than half that: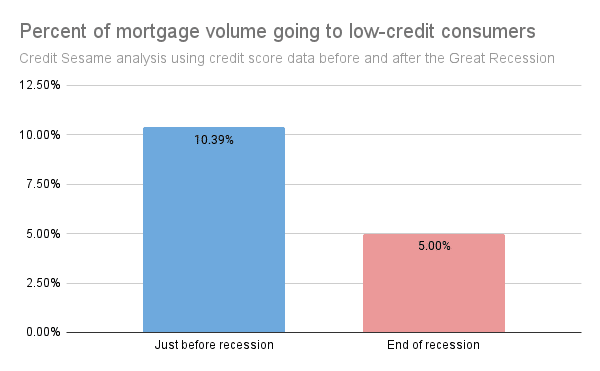 Low-credit customers also saw a steep drop-off in the proportion of auto loans they were able to get as the Great Recession wore on: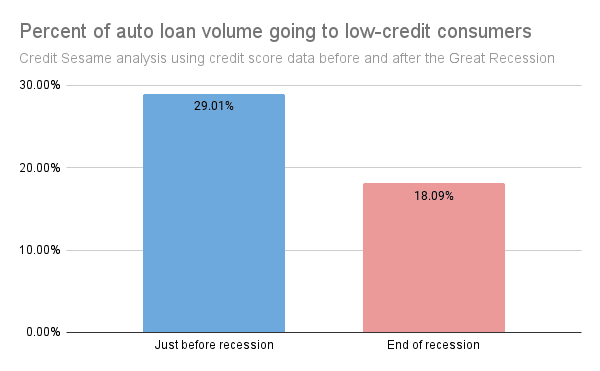 When a recession hits, loan volume in general tends to dry up. The drop in credit availability is felt most acutely by people with low credit scores.
Assessing your risk if you apply for a credit card or loan
If a recession comes, it may become a lot harder to get credit. That's especially likely to be true if you have a low credit score.
However, there's a crucial thing to consider before you decide that now's the time to apply for a credit card or loan: the risk of borrowing.
Lenders tighten credit standards during a recession because they're concerned about risk. People have a tougher time paying their bills in a recession, so defaults on loan payments rise.
It's not just lenders who should be concerned about this risk. It may be unwise to take on a loan if a recession would make it hard for you to keep up with the payments. That could cause years of financial problems.
Before you decide that this is the time to take on a loan, do a little risk assessment. Think about what impact a recession would have on your ability to keep up with the payments. Here are some key questions to ask:
How easily would the loan payments fit into your monthly budget?
Are you secure in your job?
Is your employer's business stable?
How marketable are your job skills if you do lose your job?
Does your household have more than one source of income?
Do you have emergency savings to help see you through a financial setback?
It's probably easier to apply for a credit card or loan now than it would be during a recession. Before you borrow though, you have to ask yourself what impact a recession might have on your ability to keep up with loan payments.
Lenders get pickier about risk assessment once a recession hits. You might want to do a risk assessment about borrowing before a recession hits. If you are confident you could keep up with your loan payments throughout a recession, now might be the right time to apply for credit.
If you enjoyed this discussion on whether you should apply for a credit card or loan, you may also be interested in:
---
Disclaimer: The article and information provided here is for informational purposes only and is not intended as a substitute for professional advice.