With International Women's Day right around the corner, it's important to acknowledge the unique obstacles women face in improving their financial health. Historically, women have seen unequal pay, higher debt, and lower credit scores. However, Credit Sesame analyzed data from the past four years to take a closer look at these factors, and there is some good news on the horizon: the gender credit gap is narrowing.
Credit Sesame's customer data shows that the difference between the average score for each gender is getting much smaller. In fact, in January 2016 the disparity was sixteen points, and as of January 2020, that difference has fallen to just four points. Furthermore, as generations become aware of the intersection of wealth and gender and how to set themselves up for long-term financial well-being, we are seeing this gap continue to tighten: the difference between credit scores of Millennial men and women is now just two points.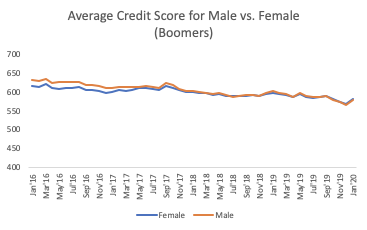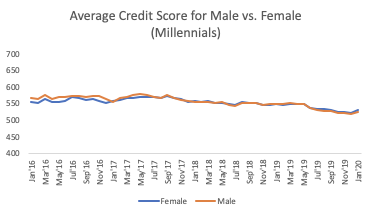 This improvement is extremely important and should be celebrated, but that doesn't mean the work is done. Another facet that should be closely monitored, and one that heavily impacts credit health, is debt. While men accumulate slightly more debt, women have more accounts in collections. The total debt gap continues to narrow more with each generation, with Millennials nearly equal. Much of this is due to student debt among this generation. In fact, 34% of women have student loans (compared with 19% of men) that, on average, are 9% higher than that of their male counterparts.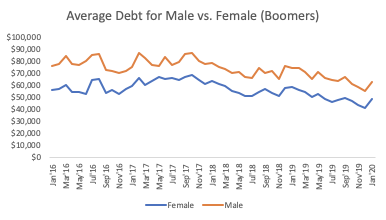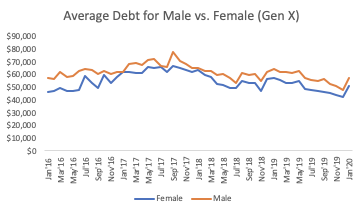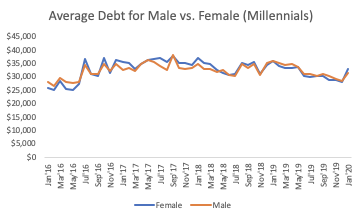 Unfortunately, Credit Sesame's data shows that women still have lower credit scores, but it also shows that we are on the right path towards a more equal picture of financial health. Credit Sesame is here to further educate and empower all consumers to take financial well-being back into their own hands, so for those looking to improve their standing, the following tips can help jumpstart that growth in the new year.
Check your annual free credit reports for mistakes
Nothing is flawless. Mistakes happen. Error correction is the simplest way to improve your score now. According to the Federal Trade Commission, one out of five consumers has an error on at least one of their credit reports. Don't let misreported information be the cause of poor credit when it's relatively easy to fix. You can dispute an error with the credit bureau that issued the report, or you can dispute it with the creditor who reported the data in the first place.
Regularly checking your credit report is an essential first step toward improving your score. How can you bring up the number if you don't know what it is? As you can see from the chart below, those who check their score on a regular basis see the benefits.
Pay on time, every time
Payment history is your No. 1 friend or enemy, depending on how you approach it. Since this comprises 35% of your score, you can't afford to ignore it. Instead, make paying credit card and loan bills a priority. If you need to make a schedule, do it. If you need a dedicated calendar for the purpose, go for it. Whatever it takes to get yourself on a strict payment schedule, that's what needs to happen.
Use different types of credit accounts
Your credit mix is another major component of your score. Lenders want to know that you can handle different types of credit products, and look for favorably on those who have several credit accounts open. However, be careful about opening too many new accounts at once. Lenders view multiple applications for credit cards negatively.
Be cautious with unpaid collections
Paying off your outstanding debt will help … right? Not necessarily. Sometimes it simply resets the clock and dings your payment history. Your payment history is your track record of paying on time and is heavily weighed in determining your credit. Three things to know here:
The

newest versions of FICO®

and VantageScore® ignore paid collections

Pay off the most recent delinquent accounts first because these hurt your score the most

Non-medical collection debt hurts your score more than medical collections
Fixing unpaid collections can be yet another major component of improving your score. Proceed with caution here, though, as paying down some accounts in collection will not improve your score but actually reset the clock on how long it will take for that debt to fall off your report. Do your research, ensure you're that the payoff is reflected on your credit report and then have patience, because from there, it'll take payments and time.
Everyone should feel confident and fully equipped to improve their financial health and learning the basics about credit, including what impacts your score, is essential. Hopefully, next year for International Women's Day, we'll be celebrating a completely bridged gap between overall financial health for men and women, which will be an even bigger win.