Personalized gift ideas brought to you by Credit Sesame.
Custom or personalized presents go the extra mile and stand out. Your loved ones will appreciate your originality and think of you every time they use these special holiday gifts. As featured on our Youtube channel.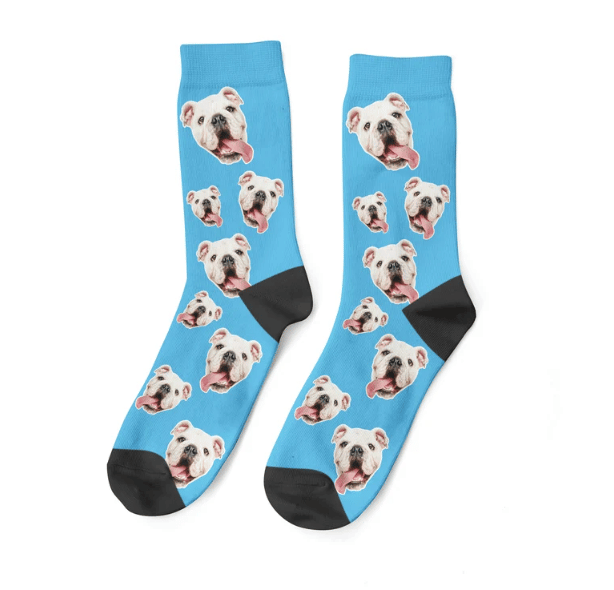 Dog socks
These are not socks for your dog. They are human socks imprinted with your favorite dog (or cat) faces (up to four different pets at no extra charge). Etsy Star Seller Daisy Custom ships your creation for free to US addresses. The socks have received high marks for their quality (and a 4.5-star rating) from over 2,500 purchasers. Reviewers say that the dog photos are cropped and reproduced very well. Several recommend that you choose a sock color that contrasts with your pet's color for maximum visibility. Socks range in price from $3.99 to $19.99, depending on size and style.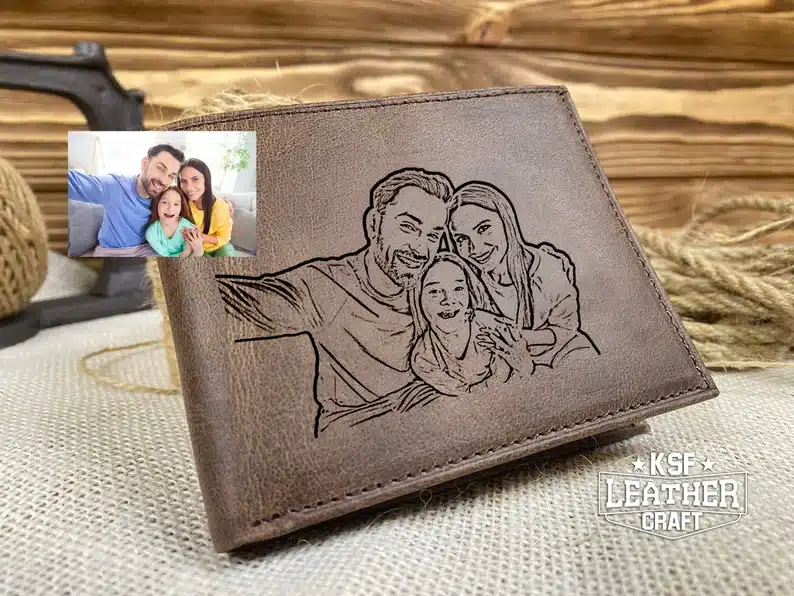 Engraved picture wallet
Upload your favorite photo or other image and Etsy Star Seller KsfLeatherCraft will engrave it onto a handsome leather wallet. You can even have a second image, like a signature or child's drawing added to the inside of the wallet. This handsome gift sells for just $14.90 plus the cost of engraving, which has been discounted by 50% and ranges from $24.90 to $29.90. With over 7,500 reviews, this well-received product has achieved a 5-star rating.
Stainless steel keychain
Whether you want a one-of-a-kind gift for someone special or a bulk purchase for a holiday party, CustomHappinessShop has you covered with its personalized stainless keychain collection. Choose your color, font, and wording and let them do the rest. The seller does not charge by the letter but notes that longer messages will be engraved in smaller fonts. You can add a different message to each side if you choose. The cost of an engraved keychain is $7 if engraved on one side and $9 for two-sided engraving. This Etsy Star Seller has nearly 17,000 reviews and boasts a 5-star rating.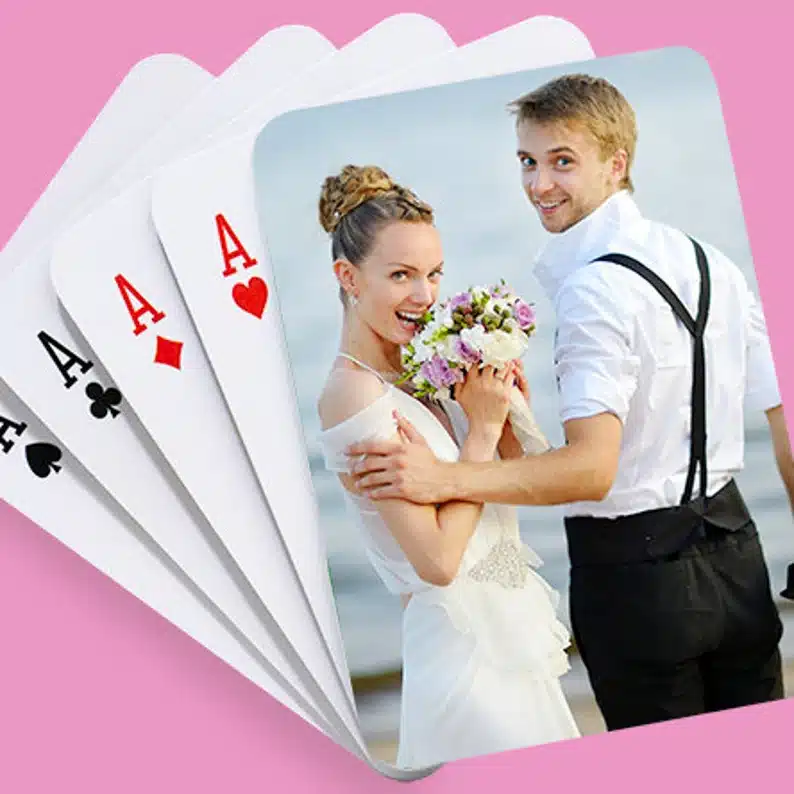 Personalized playing cards
Want a cool gift for game-loving loved ones? Or a fun promotional gift for your business? Have your favorite photo, image or logo printed on a thick, glossy set of playing cards from PrintVie. The handmade decks and their boxes are constructed in-house, the seller says, "to ensure outstanding quality, playability, and affordability." The cards have 178 reviews so far and a 4.5-star rating. Production time is a speedy three-to-four days and orders ship from Canada. To avoid delays, however, PrintVie warns it does not proof orders before shipping.
Wood photo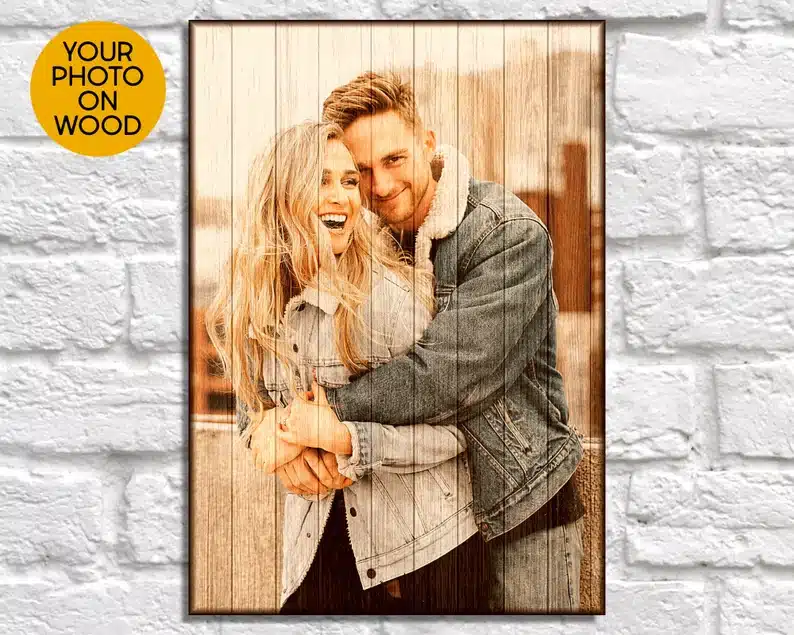 Etsy Star Seller Woodprintz prints your favorite image onto beautiful European birch plywood to create a ready-to-hang cherished keepsake. You can even add a paneled effect to complement rustic decor. The seller recommends that you upload an image with the highest resolution you can manage for best results.(500 pixels is the minimum.) Within 24 hours they will send you the artwork/proof so you can make changes if necessary. Purchasers have expressed delight with these gifts, awarding Woodprintz a 5-star rating based on over 8,625 reviews. Pricing ranges from $17.13 for a 5.5″ x 8″ print to $45.69 for an 11″ x 15.5″ print.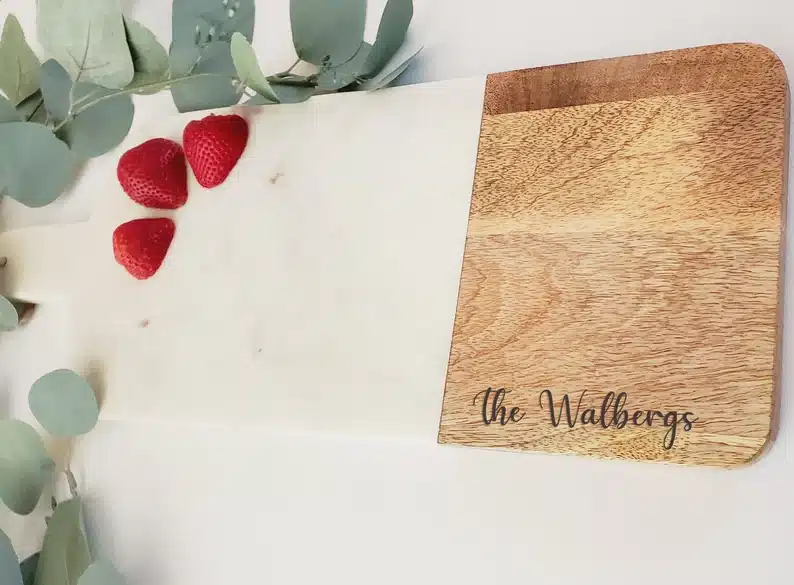 Charcuterie board
Looking for an upscale gift idea for hosts with the most? Impress friends and family with a handmade custom charcuterie board. AmberBlossomDesigns makes these unique and durable boards from marble and gorgeous mango wood. The boards measure 20″ x 7.5″ x 1/2″ thick and can be custom engraved. They cost $65 and ship for free to the US. This is a new seller with only five reviews as of this writing; however, purchasers have been resoundingly happy and all have awarded five stars.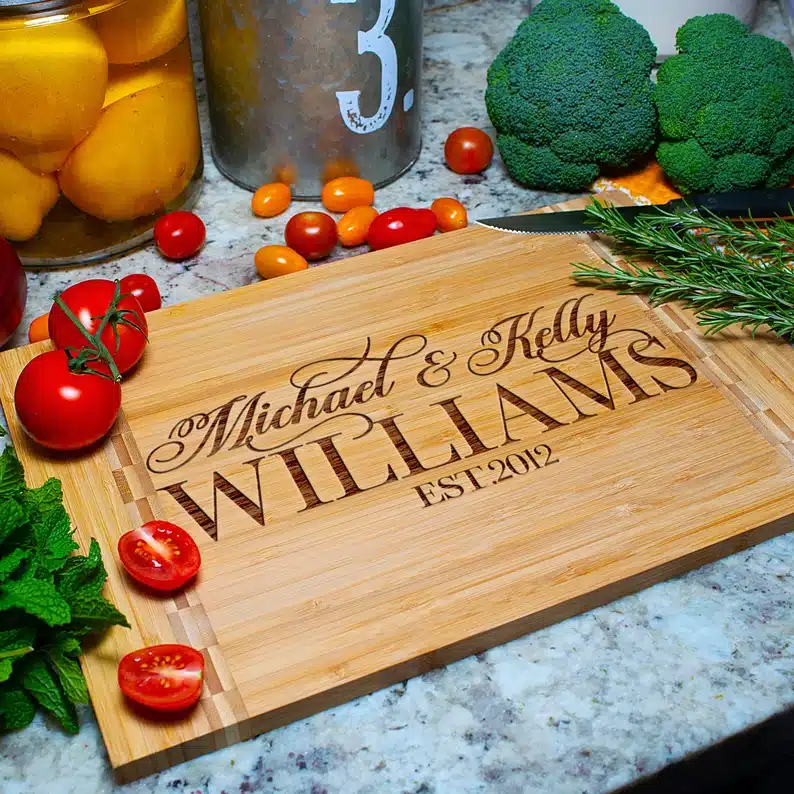 Cutting board
Practical, beautiful and personal — Etsy Star Seller PersonalizationLab will surprise and delight your loved ones with their bamboo, butcher wood or two-toned cutting boards. Choose from 12 designs and add an engraved message to commemorate a special event or relationship. The boards cost between $15.95 and $64.95 depending on size and materials and ship for free. These wildly popular gifts have over 36,000 reviews and have achieved a superlative 5-star rating.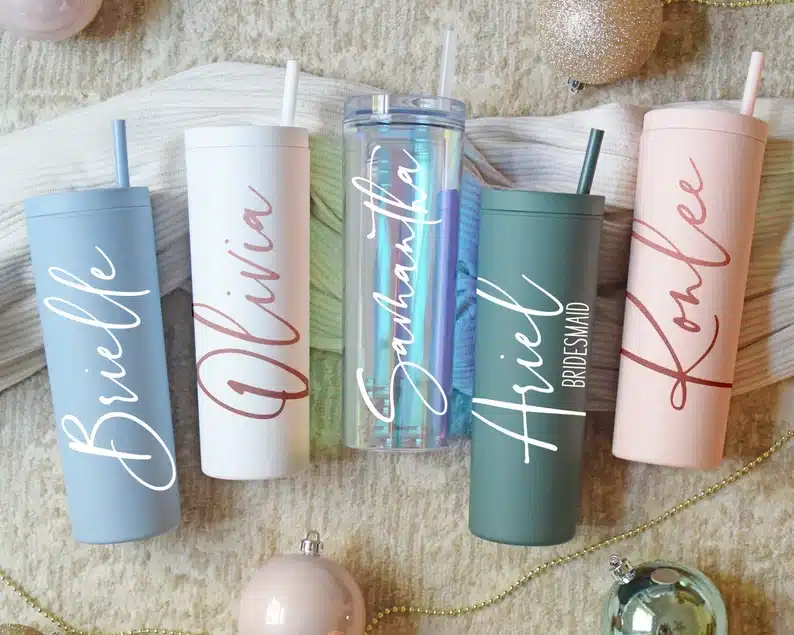 Tumbler
Personalized BPA-free, non-toxic tumblers from Etsy Star Seller TheWhiteInviteGifts feature condensation-free double-walled construction and a matching reusable, durable polypropylene (PP) straw with a ring stopper. Have fun customizing each tumbler (there are 11 colors) and adding the recipient's name in one of 15 color fonts. These highly portable gifts are 8.5″ x 3″ and hold 18 ounces. The seller boasts a 5-star rating based on input from over 18,000 happy customers.
Best friend or sister custom picture
Create a one-of-a-kind artwork from a photo and a thought. Etsy Star Seller SimiArtGifts's small team of artists constructs every artwork in the US. You can select a digital file for $17.10 and print it yourself (the seller supplies instruction). Or you can have it printed on museum-quality archival paper for $44 to $89.95. Your artwork is ready in six-to-24 hours and ships for free. This product has garnered over 800 extremely enthusiastic reviews and a five-star rating.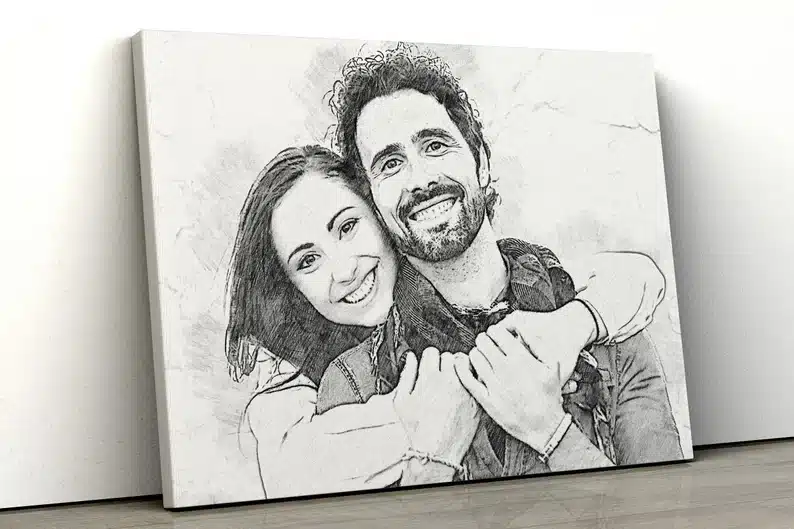 Pencil portrait
RockHeartArtist elevates any ordinary photo into an artistic, stylized poster or canvas print. This digital print delivers the custom look of a pencil drawing as a digital file for printing. Or you can choose to have it printed on matte paper or canvas. Sizing options range from 8″ x 10″ to 24″ x 36″ and pricing runs between $28.43 and $254.37. The seller works with customers to deliver a personalized product and customers have delivered a 5-star rating from 694 reviews.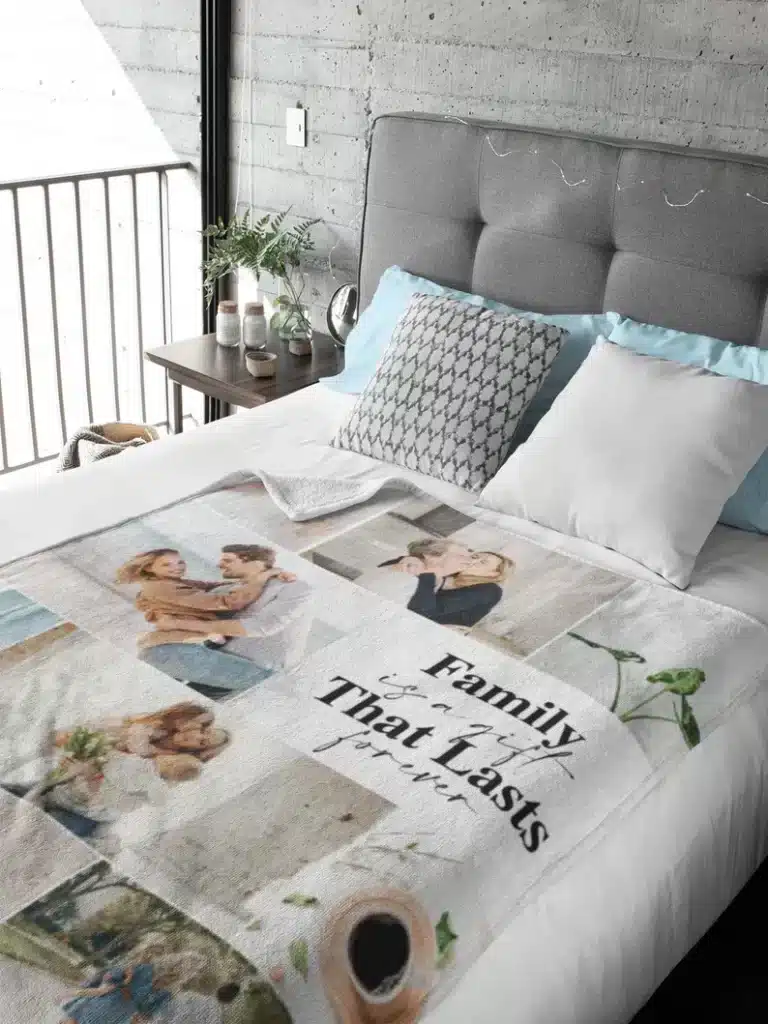 Photo collage blanket
Want something more practical than a scrapbook? Celebrate your friends or family with a made-to-order gift saluting special people and moments. Etsy Star Seller GoldenRockTX assembles a soft, warm blanket collage from your artistic images, messages and photos. Choose a 30″ x 40″, 50′ x 60″ or 60″ x 80″ blanket. Pricing ranges from $40 to $110 depending on the size and if you want a design from text, photos or text and photos. This gift has a 5-star rating based on over 7,700 reviews.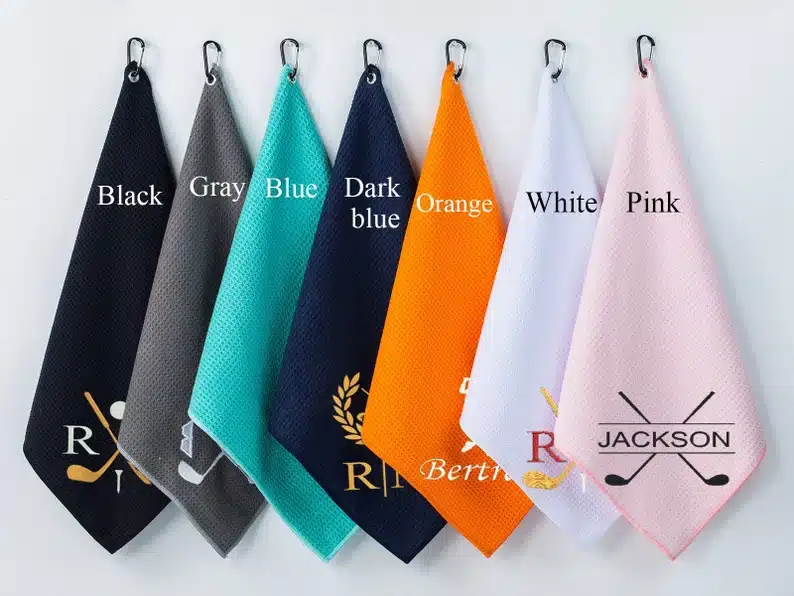 Golf towel
The golfers in your life will love this embroidered, monogrammed, colorful golf towel featuring absorbent, durable microfiber and convenient grommets and hooks. Choose from seven colors and nine designs. The towels are handmade by BailiHandcrafted and have achieved a 4.5-star rating from over 400 reviewers. Custom towels cost $15.95 and arrive in two-to-three weeks.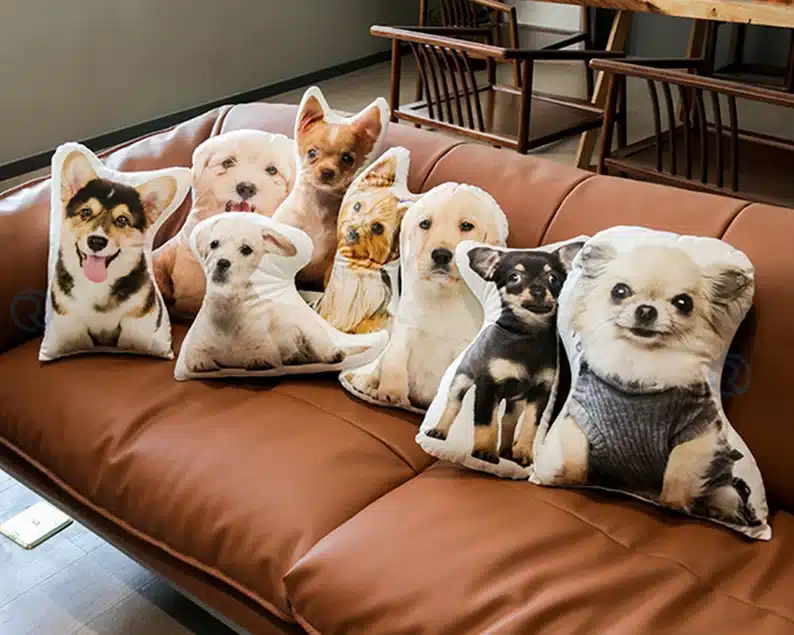 Dog pillow
You can have your pets on the furniture without them leaving dirt or hair. Simply have Etsy Star Seller Rarton turn your pet's photo into a cute handmade pillow. This custom-shaped soft pillow makes a great gift for the animal lovers in your life. It's available in 6″ to 24″ lengths with printing on one or both sides. Pricing ranges from $14.20 to $49.40 and it ships for free in the US. The pillows have a 5-star rating based on over 4,000 reviews.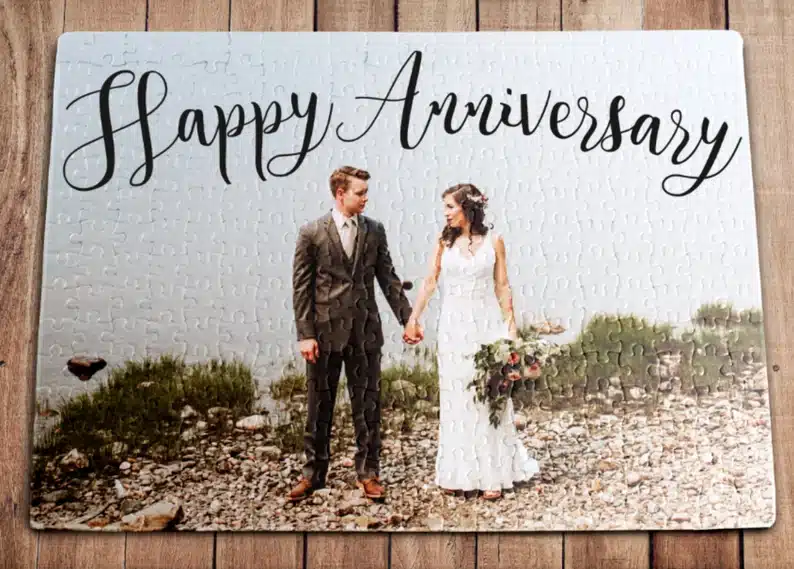 Custom picture puzzle
This puzzle from Etsy Star Seller ForeverWeddingCrafts offers its lucky recipient more than just a memory. Working on a made-to-order puzzle is a great way to unwind and reset, and there's nothing more satisfying than putting in that last piece. Simply upload a high-resolution image (follow directions carefully for best results) and choose your puzzle size and material — plain cardboard ("normal"), wood or acrylic. Pricing ranges from $17.98 for a small "normal" puzzle to $39.97 for a large wood or acrylic puzzle. The seller has nearly 35,000 reviews and a 5-star rating.
Holiday tree ornament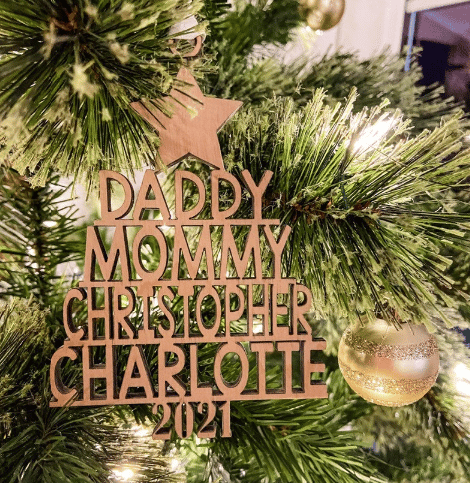 Most of us can't afford to exchange extravagant gifts with everyone in our circles, but smaller mementos can be a lot of fun. And gifting special ornaments is a nice tradition. The Family Christmas ornament from Etsy Star Seller BirchandBelle lets you stack up to eight names on a laser-cut birch Christmas-tree-shaped ornament. Ornaments come with a white satin ribbon for hanging and are about five inches tall. The cost ranges from $14 for up to three names to $20 for eight names, and it ships for free in the US. BirchandBelle has a 5-star rating based on over 2,700 reviews.
Personalization can elevate a modest gift into something special, and there are so many items from which to choose. You shouldn't have much trouble finding something perfect for everyone on your list.
You may also be interested in: