When you think of an artist, you probably think starving and broke. That's not the case for Katherine Kean. This fine artist managed to achieve financial independence in her 40s with a successful business and savvy investments. These days she spends most of her time in her home studio in Los Angeles, painting beautiful works inspired by nature.
Here's how she did it.
Katherine's story and how it all started
Kean moved from Providence, Rhode Island, to Los Angeles soon after she graduated from art school with a degree in film, video, and animation.
She arrived downtown without much knowledge of the area. When she asked her taxi driver to take her to the Disneyland Hotel, because she had fond childhood memories of the place, he laughed. "He told me that would be quite an expensive fare," recalls Kean.
Instead, the driver suggested a safe and inexpensive nearby hotel. At $1 a night, the price was right.
In the hotel lobby she chatted with a man who told her that he planned to make money buying and selling stocks. "Later on, he showed me how the prices in stocks changed over time, and went over the math," explains Keen.
She wasn't convinced. "I just didn't think it was possible to make a living investing in stocks," says Kean, who had never been exposed to the idea before. Still, a seed was planted and Kean held on to that advice until the time was ripe to test out the idea.
She started a smart business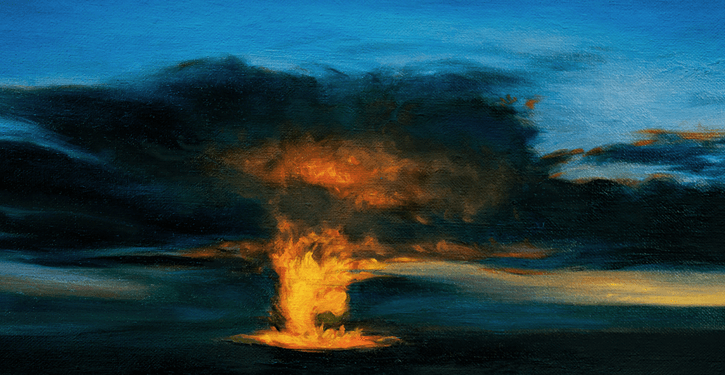 In the mid-'80s Kean and a fellow animator—whom she later married—started a visual effects business together. "We thought the company would last for six months, and it was a big surprise when it kept going and going," laughs Kean.
At this time nobody was producing the visual effects we see today, and the skills weren't yet taught in school. Kean's company, while small, often submitted bids on jobs in competition with much larger companies, such as Lucasfilm. Kean and her business partner also eventually bought and sold the commercial building their production company was housed in, which helped build her equity.
How she learned how to invest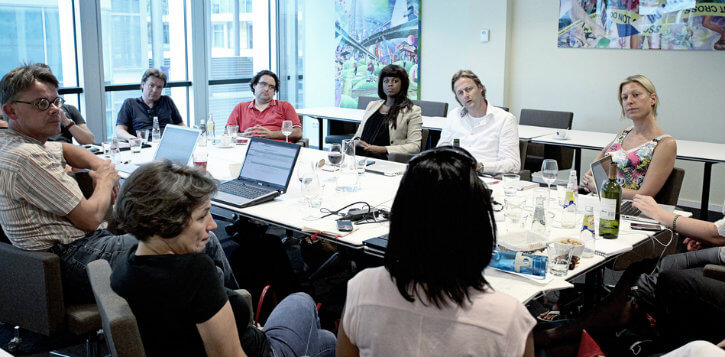 Kean's company continued to grow and at its height, employed 30 people full-time.
To retain the best talent, Kean and her partner offered premium benefits, including a pension plan. This was Kean's first taste of investing. The time was the '80s and the stock market was booming.
To learn the ins and outs of running a pension plan, Kean consulted with various financial advisors at different brokerages.
She also watched how the investments in her employee pension plan performed.
The ones that performed well she would add to her personal portfolio.
Kean loved spreadsheets, and when computers came along, she used Excel and Quicken to keep track of growth. "It was just amazing to watch the money grow," she recalls.
She learned the ins and outs of investing her money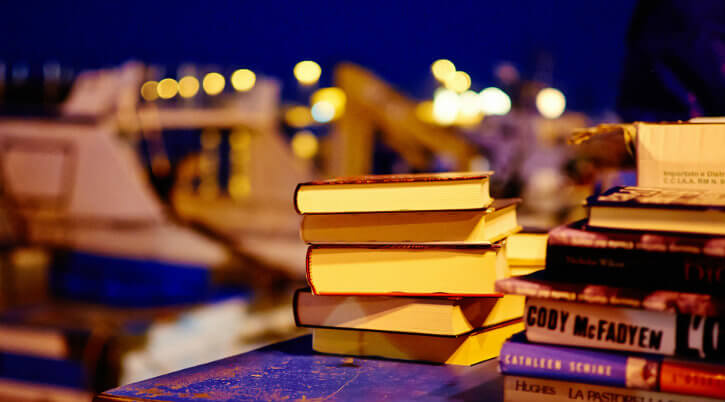 Kean learned an important lesson shortly after she started investing. The stock market
experienced a small correction and she lost money. When she had first purchased shares of the mutual fund, she mistakenly believed that her initial investment would be protected.
Furious, she called the broker and asked, "How could it be possible that it would be worth less than the initial amount?" The broker explained that long-term investments generally go up in value, despite price fluctuations over the short term. She sat tight, and in a few months the mutual fund bounced back.
The scare inspired her to take classes and read books about investing. To educate herself, she reached out to financial advisors at least once a month, and would check in if the stock market was doing anything out of the ordinary. She read Money Magazine and did her research using Value Line.
She also called companies she was interested in investing in and asked for more information. While the Internet has made it easier to research individual stocks and share ideas on forums, Kean currently subscribes to the monthly newsletter Bryan Perry Cash Machine Income.
She invested in herself
"I always knew I wanted to be a painter, and I so I had in mind the idea that maybe I could save enough money and rely on that and art sales," says Kean. "I had always loved art, but how do you make a living? Nobody really knew how to answer that."
Kean started seriously in mutual funds in the mid-'80s. With an initial investment of $2,000, she answered an ad for mutual funds in Money Magazine.
When she had more money to invest, she did. And when she gained more confidence, she started investing in well-known individual stocks, such as in IBM and GE, and later in EMC and tech stocks.
Toward the '90s Kean started investing in REITs (real estate investment trusts).
Now that she's older, she's sticking to more conservative investments such as dividend aristocrats, which is a group of companies that are a member of the S&P 500 and have a minimum of one dividend increase annually for at least the last 25 years in a row.
The different investment strategies Kean used to grow her money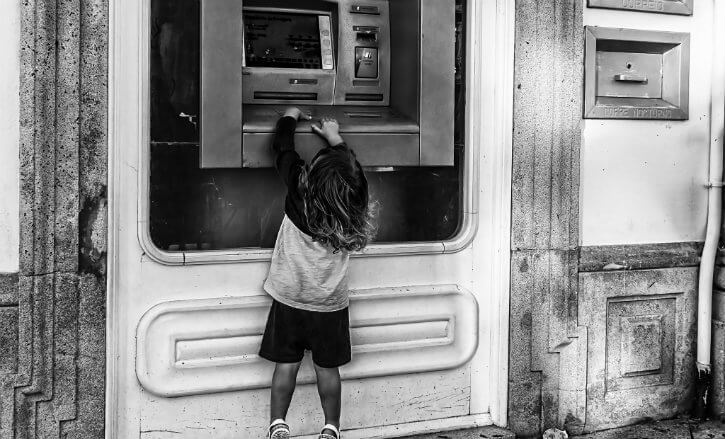 Dollar-cost averaging: Buying a fixed dollar amount of a particular investment on a regular schedule, no matter what the price of the share;
Portfolio diversification: Investing in different asset classes and securities to reduce overall risk;
Reinvesting dividends: Using interest or capital gains earned in an investment to buy more shares;
CD interest laddering: Divvying up money you're investing into equal amounts into certificates of deposits with different maturity dates, which minimizes risks.
Channeling: Buying and selling certain stocks with fairly predictable periodic highs and lows, which allows one to buy low and sell high over and over again.
She managed her money well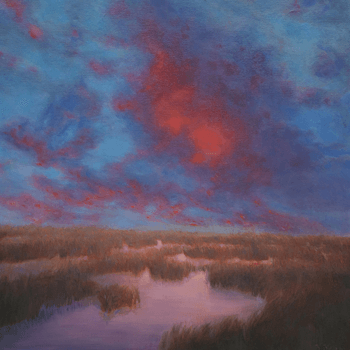 Kean had always been good with a budget, and she saved 25 percent of her income. Some was set aside for emergencies, but most was reinvested. Because the revenue from her business fluctuated enormously, in the early years she was only able to invest as little as $3,000.
Other years she was able to invest as much as $30,000. She owned her home, and later bought a second home.
When Kean was 47, she closed her visual graphics company. She evaluated her investments and assets and decided she could pull off early retirement. Her benchmark was a paid-off mortgage and $500,000.
"Eventually you'll have to step off the shore and just do it, knowing at any moment you might have to get a job," says Kean. She took the plunge, living solely off her stock earnings. For a few years, she spent half her time painting and half researching stocks. As time wore on, she spent less time focusing on her stocks and more on her art.
Like many investors, Kean got squirrelly in 2008 and sold most of her stocks. When the market hit a low point, she tentatively started to buy back some of them at a discount.
She lives frugally and does what she loves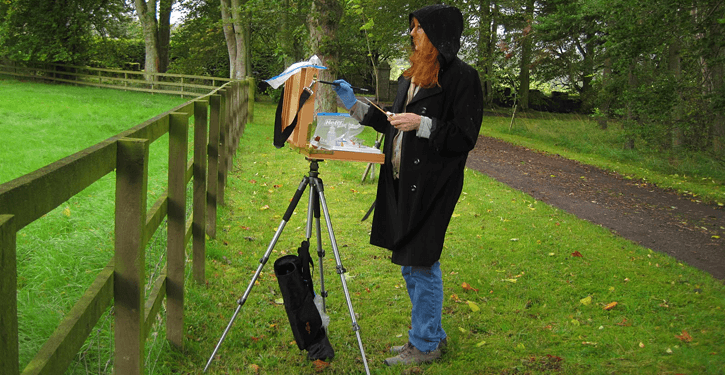 These days Kean spends her days painting and gardening. While she's not working 90-hour weeks as a co-owner, animator, designer, and producer, she works full-time as a painter. She lives a very simple life, and cooks most of her food at home. She has no need for a fancy car or lots of clothes.
She spends four to six hours painting every day. "Having the time the paint and not having to work for someone is the most important thing for me," says Kean.
Kean's advice to hopeful investors
Kean recommends setting goals for savings: how much and by when. Also, do your research so you have a personal understanding on why they think a particular investment will do well. That way you won't give up on a stock if there's a temporary downtown. "Instead of reading articles on top stocks to invest in, read a company's financial reports to figure out if they're profitable or in debt," says Kean.
She also suggests articulating your priorities and knowing what it is that you're after. "When people make pursuing money their main goal, they can become so focused on getting the money that it becomes an end of itself, but they don't really know why they want it for anymore. If you know what your goals are, and what the purpose for the money is, it keeps you grounded."