Credit Sesame delves into whether you should borrow money or spend your emergency fund in times of need.
Most financial experts agree that it's a good idea to have some savings set aside for emergencies. Once you've built it, the challenge becomes knowing when to spend your emergency fund.
High inflation is creating ever-greater demands on people's budgets. If you've succeeded in building an emergency fund, it's only natural to consider turning to it when times are tight.
Before you tap into your emergency fund though, you have to ask yourself whether this really is an emergency.
As this article explains, not every financial demand is an emergency. That means there are times when using an emergency fund can be exactly the right move, and times when it might not be the best solution.
Americans need every extra penny this year
There's no doubt that people are feeling a particularly strong need to find extra money this year. Whether it's looking under the couch cushions or tapping into an emergency fund, any extra source of cash is welcome.
This is because high inflation has pushed household budgets closer to the edge. Ideally, you should have something left over from each paycheck to save for future needs. However, a recent Credit Sesame poll found that the percentage of Americans having to spend everything they earn each week has almost doubled this year: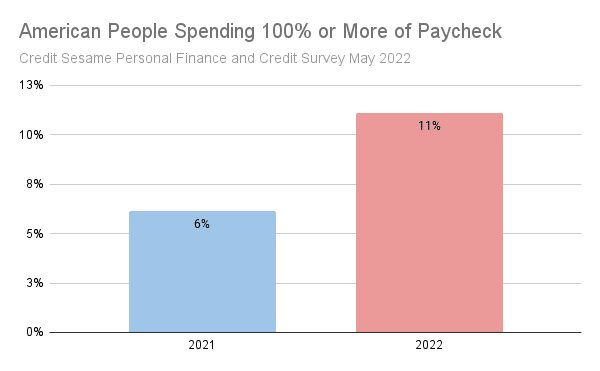 Those people who are living on the edge financially have no room for unexpected expenses. They're having a hard enough time meeting the expected ones.
Why consumers are feeling the squeeze
Why are people having a harder time making ends meet this year? It's simple. For all but a lucky few, pay raises have not kept up with inflation. This makes it all the more tempting to spend your emergency fund.
That same Credit Sesame poll asked people about the size of any pay increases they've earned over the past year. For Americans who received a pay raise, it turns out that less than 15% of those raises were above the rate of inflation: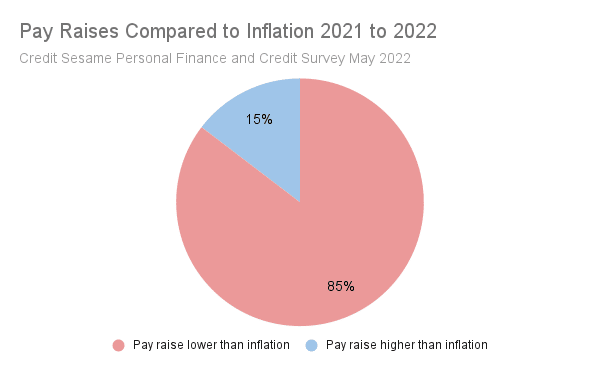 With prices rising faster than pay, something's got to give. The same things you were buying regularly last year may no longer fit your budget. So where is the extra money supposed to come from?
Spending your emergency fund is a better option than borrowing – especially now
If you want to pay for something that your paycheck can't cover, you have two options. You can dip into savings, or you can borrow the money.
If you have savings readily available, using some of it is generally a better option than borrowing. That's because borrowing generally leads to interest charges.
Paying interest adds to the cost of anything you buy with borrowed money. So, as if inflation wasn't bad enough already, borrowing to keep up with expenses only pushes prices higher.
On top of that, current conditions make interest especially costly in two ways:
Interest rates on credit cards and other forms of borrowing are rising in response to inflation.
If you rely on borrowing to make ends meet, it might lead to carrying a credit card balance longer – which means paying more interest.
Given all of the above, dipping into savings might seem the smartest solution under the circumstances. Before you do that though, you have to ask yourself what you'll do the next time, once your savings are gone.
Specifically, if you've been saving for an emergency, does inflation qualify as a big enough emergency to justify draining your emergency fund?
Why inflation isn't an emergency
There's no doubt that inflation is causing serious financial hardships for many households. However, it isn't the type of thing that emergency savings are well equipped to address.
If you have an unexpected, one-time expense, emergency savings can help you pay for it. After that, you can get back to your normal savings habits and rebuild your emergency fund.
What's different about inflation is that it doesn't create one-time expenses. Price increases are rarely rolled back. Even if the rate of inflation cools off, those price increases that have already occurred are likely here to stay.
So, if you're having trouble making ends meet this month, you'll probably have the same problem next month unless something changes.
As mentioned earlier, two options for meeting an expense your paycheck can't cover are dipping into savings or borrowing.
A third option may be figuring out what expenses you can cut back on. When you're faced with lasting price increases, this may be the only sustainable option.
Until your income catches up, cutting back on spending may be the only option that doesn't involve draining your savings or landing you ever-deeper in debt.
After all, higher prices are not a one-time emergency. They are a new reality that your budget has to adjust to the new normal.
When to use your emergency fund
If inflation is a bad reason for tapping into your emergency fund, what qualifies as a good reason?
Good uses for an emergency usually meet the following three conditions:
One-time events. If it's a problem you'll face month after month, you won't solve it by using up your savings.
Necessities. Given that a genuine emergency can happen at any time, you should save your emergency funds for things that are absolutely necessary. A car repair or a medical expense qualifies. A clothing store sale or a vacation does not.
When your next paycheck or two wouldn't cover the expense. To keep your emergency fund intact, it's best to save it for big expenses rather than letting it get whittled down a bit by bit. If you get hit with the kind of expense you could cover out of your next couple paychecks, it may actually be better to charge it to your credit card. As long as you pay it off during the billing cycle, you can avoid interest charges.
After you tap into or spend your emergency fund completely, you need to work on rebuilding it. If the emergency was truly a one-time event, you might be able to do this by saving the same way you did to build the emergency fund in the first place.
If your financial circumstances have changed, you might have to rethink your budget. Inflation might be eating up more of each paycheck. Even so, you still have to find room for savings.
After all, if you spent only part of your emergency fund, you can congratulate yourself for having had the money on hand when needed. Now you should make sure you can be as prepared when the next emergency comes along.
You may also be interesetd in:
---
Disclaimer: The article and information provided here is for informational purposes only and is not intended as a substitute for professional advice.
---
Survey methodology
The Credit Sesame Personal Finance and Credit Survey 2022 was designed and executed by Credit Sesame using the Momentive Inc. survey tool. General population data was collected online May 20-21, 2022. The survey sample comprised 1,222 U.S. residents aged 18 to 99 years balanced for age and gender using U.S. Census data. The sample data is accurate to within + 2.88 percentage points using a 95% confidence level.