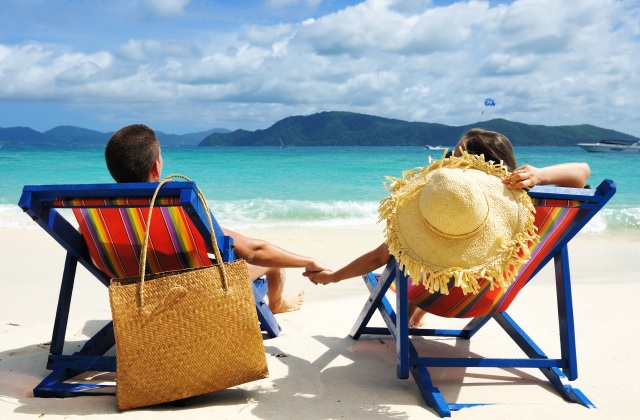 You should spend time on your summer getaway riding Space Mountain, sticking your toes in the sand, or touring ancient Roman ruins — not trying to protect all your financial information because you've been the victim of identity theft. So how do you minimize your risk and protect your identity while on vacation?
Here, seven precautions you should take to remain safe when you're on the go.
1. Notify your card issuers
Before pack a suitcase or step foot on a plane, contact your credit-card issuers and let them know that you're going to be traveling. (This is especially important if you're traveling overseas.) This way, your issuer won't block you from making additional purchases if they see numerous charges from an unusual locale, but they'll still monitor your account for any other out-of-the-ordinary activity.
2. Lock it up
If your hotel has a safe in the room, take advantage of it. Put all credit and debit cards, travel documents (such as tickets and passports), computers and cell phones, and anything else that contains personal identification information safely behind the locked door.
3. Pack lightly
In most situations, there's no reason to travel with your Social Security card or personal checks. These items make it easy for fraudsters to commit identity theft, and they are just the items that pickpockets are looking to swipe from you. So just leave them at home.
4. Have duplicates
It's important to make copies of all your travel plans and documents— itinerary, tickets, reservations, and passports. Store the copies in a different place than the originals, so you don't lose both if a thief strikes.
5. Don't broadcast your plans
Posting your vacation snapshots on Facebook and Instagram is fine — just do it after you've arrived back at home. Why? You don't want to notify your hundreds of Twitter followers that your house is sitting vacant.
6. Skip the ATM
In order to steal bank account information and PIN numbers, scammers have been known to set up ATM machines in areas that have a high volume of tourists. So stick with using ATMs at banks — or better yet, pay with a credit card, which has more consumer protections than any other payment method.
7. Remain diligent
Once you've returned home, keep an eye on your credit cards. (To do so, log in frequently or check your monthly statements.) It's also wise to check your credit reports to guarantee that you remain safe.
Otherwise, you might require the t-shirt that reads, "I went on vacation and all I got was a stolen identity."
Worried about identity theft? Credit Sesame now offers free identity theft protection to give you added peace of mind. When you sign up for a free Credit Sesame account you'll get access to your free credit score, free credit monitoring with real-time alerts, plus $50,00 in identity theft insurance and fraud resolution assistance — for free. In the event you're ever a victim of identity theft, we've got you covered. There's no catch — and no credit card required. Sign up today »
Join The Discussion
Become a vital part of the SesameThrive community and share your experiences and insights.
You can trust that we maintain strict editorial integrity in our writing and assessments; however, we receive compensation when you click on links to products from our partners and get approved.
Published June 9, 2014
•
Updated: November 3, 2016
Related Links