Opinions expressed here are author's alone, not those of any bank, credit card issuer, airlines or hotel chain, and have not been reviewed, approved or otherwise endorsed by any of these entities.
What is a bad credit score?
Based on the information found in your credit report, the credit reporting bureaus typically generate a score between 300 and 850. The higher your credit score, the more likely you are to be approved for credit and to receive the most generous terms, like lower interest rates or longer repayment periods. Conversely, a bad credit score is one that may cause a lender to reject your application for credit or charge higher interest rates on loans that are approved. It is also important to note that lenders, credit cad issuers, look at different scoring models and have different criteria they use to determine if you will be approved for a credit card and the terms they will extend to you, so, having a credit score in a particular range is not a guarantee that you will be approved for the card or for the terms you applied for.
Here's a general credit score chart that shows the category and credit ranges. Keep in mind each credit bureau has their own scoring model, so the ranges will differ.
[Offer: Free Credit Score]
Many lenders consider a credit score between 500 and 549 "poor," and a credit score below 500 "very poor." If your credit score falls in that credit range, you'll have difficulty being approved for new credit, and may even have job or rental applications rejected if an employer or landlord asks to run a credit check on you.
[Related: Rental History Reports]
For people in that range, the first questions asked are usually about how to improve your credit score.
That said, each lender sets its own cutoff points. Some consider anything over 550 to be fair or better. At least 75% of Credit Sesame members are in the fair, good or excellent category. Take a look (data collected October 2015):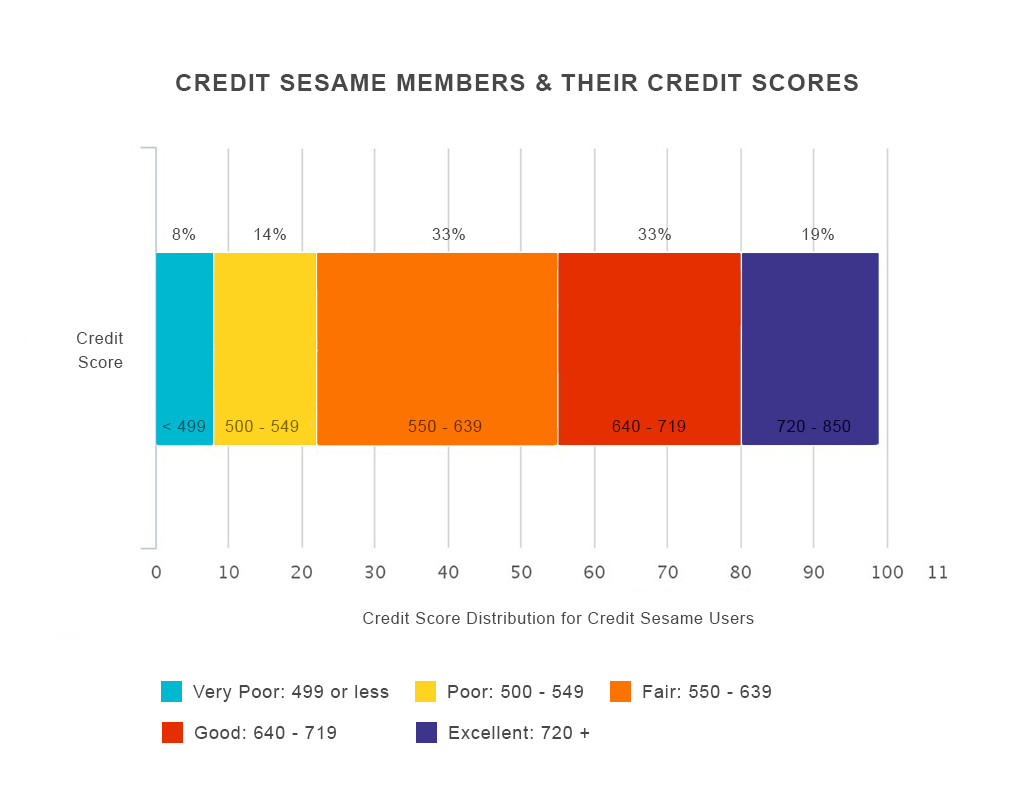 If your score is in the 500-549 range, approval for any credit product will be a challenge. If you're in the 550-599 range, the lender may consider your score to be unacceptable, or they may give you a shot. If you're at or below 649, you need to focus on reaching the next higher credit tier.
The most important first step is to examine your credit report closely for accuracy. Make sure you recognize every entry on your credit report, and if there are any discrepancies, move quickly to fix them. If you've been targeted by identity thieves or had a credit card compromised, you may have unpaid balances on cards you never opened — and aren't responsible for. The sooner you have those accounts closed and removed from your credit report, the sooner your score will start to recover.
Here is what you can expect to see when you pull your report.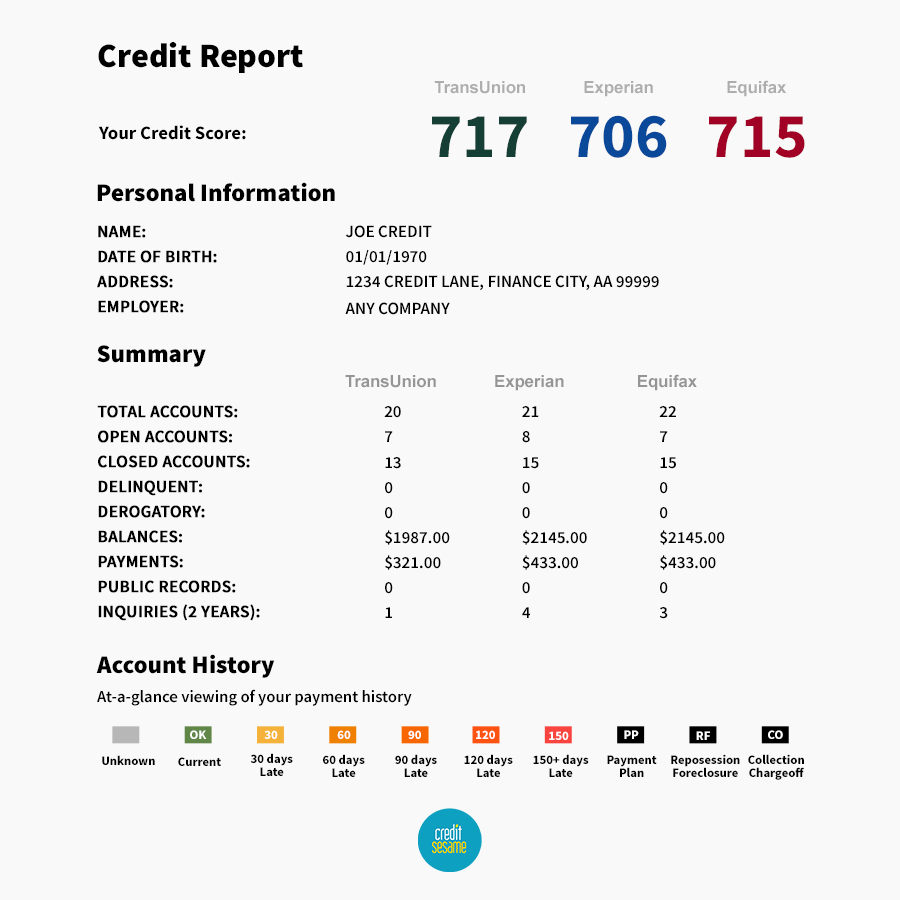 If your bad credit score is a result of late payments or high balances, then as you pay down your balances and built a record of on-time payments, your score will gradually increase over time. Most late and missed payments are kept on your credit report for seven years, so you need to focus on building up that record of on-time payments.
Credit repair is simple, but that doesn't make it easy: set up a system that works for you to make all of your payments on time and pay more than the minimum due on credit cards if at all possible. Ultimately, people who have the best credit scores have perfect payment histories and low or zero balances.
[Related: Repair Credit]
Best credit cards for bad credit
Even if your credit score is below 549, you may find you can still be approved for credit cards, although credit cards for "bad credit" generally offer low limits and high interest rates. On the other hand, if you pay off your credit cards in full and on time, those payments will be reported to the credit bureaus and will help to increase your credit score over time.
With that in mind, here's some of what you need to know about applying for credit cards for bad credit.
Unsecured credit cards for bad credit
Unsecured credit cards are "regular" credit cards that don't require you to deposit any cash with the bank as collateral against unpaid debt: you're allowed to make purchases up to your credit limit, and can pay for your purchases over time — although you'll typically pay high interest rates on any purchases you don't pay off in full each month.
Unsecured credit cards targeted at those with truly bad credit tend to charge, in addition to high interest rates, high annual fees and even fees just for applying such as processing fees.
It's best to steer clear of those cards and either apply for a secured credit card or reach a little and apply for a credit card which has no annual fee and you can work at building up a history of on-time payments — a critical component of your credit score.
[Related: How to Build Credit]
Instant approval credit cards for bad credit
Credit card issuers do not offer "instant approval" anymore, and many card issuers do not offer instant decisions either, but for those that do, they offer an instant decision or a decision "within 60 seconds." That simply means they have a connection to the credit bureau they use to evaluate applicants, and a computer algorithm that decides what credit score applicants need to be approved (they may also evaluate on-time payment history and the other components of your credit score). Some credit cards with online applications, or even those you apply for in a bank branch, may give you a decision on your application within moments, however keep in mind that the decision they provide to you may also be that they will require additional information or that they will need more time to access your application and credit information.
For credit underwriting reasons, even credit cards that promote an "instant decision" may require a review by a person before it's finally approved or declined, so know that your application might not be immediately processed.
Secured credit cards for bad credit
One way to rebuild your credit is to sign up for a secured credit card and to use it responsibly. With a secured credit card, you can open a credit card with a spending limit typically equal to the amount of cash you deposit with the bank issuing the credit card. The security deposit is not applied to purchases that you make on the card. It is held by the bank in case you fail to pay the bill. With responsible use by you a secured card can provide you the opportunity to demonstrate your ability to manage a revolving credit line, improve your credit score, and eventually graduate to an unsecured credit card.
Opening a secured credit card does require you to tie up cash in the form of security deposits, secured credit rebuilding credit cards are for those individuals who are new to credit and have no credit/limited history or for those who are trying to rebuild their credit. These credit cards can be used as a tool to help you, however the bottom line is it is up to you to manage your account responsibly and to work at repairing or creating a positive credit history.
[Related: Improve Your Credit Score]
Store credit cards for bad credit
Besides secured credit cards, another option to consider are store credit cards. These are lines of credit that you can only use to make purchases at the issuing store. If you find yourself making a lot of purchases from a single merchant, it may be worth checking out if you are eligible for a store card.
Your balances and payments will be reported to the credit bureaus, and you may also earn rebates or discounts on your in-store purchases made at the issuing store. However, keep in mind that the interest rate, annual percentage rate (APR) for purchases, tends to be much higher for store credit cards so it would be best to keep your spending such that you can pay off your balance in full and on-time each billing period.
Even Amazon.com offers an Amazon Store Card you can use to make purchases on Amazon.com, however that is not to imply that you would be eligible for this card if you are new to credit or if you are rebuilding your credit.
There are no guarantees that you will be approved for a store credit card.
Question: What's the best way to get a credit card with bad credit?
Answer: The best way to get a credit card with bad credit is to improve your credit score. If you have a bad credit score because of missed or late payments, then getting back on track with your payments will gradually rebuild your payment history and improve your credit score. Each late or missed payment disappears off your credit score after seven years, so the sooner you get back on track the sooner your credit score will recover.
If you haven't opted out of pre-screened credit offers, you may also be targeted through the mail with credit card offers for bad credit.
Question: Are there credit cards for people who have no credit?
Answer: Although you may receive a credit line of just $100, consider a store credit card or, as already mentioned, a secured credit card (where you make a security deposit that is typically equal to the credit limit you will be extended by the card issuer) these options are the best opportunity to get a credit card for people who have no credit. They give you the opportunity to start building a history of on-time payments and responsible management of your credit, both of which eventually open the door to unsecured credit cards, mortgages, car loans, and other forms of personal credit.
Bad credit car loans: what you need to know
Some lenders may offer car and motorcycle loans for people who have bad credit, but you need a strategy before you start shopping around.  You will probably pay more in interest for this kind of financing. For example, some car lots offer "buy here, pay here" financing with no credit check required but the rates may be 15% to 30% or higher.
If you're trying to get a car loan with bad credit, check your free credit report card from Credit Sesame first to see what shape your credit is in. Pay down your existing debt balances and make sure you pay all of your bills on time. Doing those two simple things can add points to your score that may help you qualify for a better deal on a car loan.
Question: Can bad credit auto loans help to improve my credit score?
Answer: It depends. If you're buying a car through a dealer that offers on-the-lot financing, your loan may not be reported to the credit bureaus. Before you sign on the dotted line, make sure that your payments will show up on your credit report so your score benefits from your responsible credit management.
Bad credit personal loans
Personal loans for people who have bad credit can take many different forms—peer-to-peer loans, loans issued by online banks and car title loans are just a few. These are all examples of installment loans for bad credit, which means you borrow a specific amount of money and you must pay it back over a set period of time.
If you want a personal loan and you have bad credit, an online lender may be your best bet. Online lenders frequently offer better rates than traditional banks and they tend to be a bit more flexible when it comes to approving borrowers who have less than perfect scores. Take a look at the list of lenders mentioned earlier to get a feel for what your options may be.
Home loans for bad credit
Editor's Note January 7, 2019: The U.S. Department of Housing and Urban Development (HUD) websites have not been updated due to the lapse in Congressional Appropriations for Fiscal Year 2019, as  a result the information for FHA loans may not be the most current
If you want a mortgage and you have bad credit, prepare for an uphill battle. Typically, most lenders require a minimum credit score of 620 for a conventional loan. For a USDA loan with no down payment, the score requirement climbs to 640.
Technically, it's possible to get an FHA loan with a score as low as 580. But each individual lender who works with the FHA decides what score it will or won't allow. The advantage of an FHA loan over conventional financing is that you can make a down payment of as little as 3.5% of the purchase price. For the best terms on a conventional loan, a 20% down payment is the industry standard.
A few lenders will underwrite an FHA loan for a consumer with a score below 580, but the loan comes at a price. Instead of 3.5%, you'll have to pony up a 10% down payment instead. If you want a $200,000 loan, you'll need $20,000 to get a foot in the door. This could be a good option for someone who has received a cash windfall, but for anyone who has to save, in the time it takes to save that kind of cash, you can just as easily (or more easily) improve your credit and qualify for a better loan.
Tapping your home equity with bad credit
If you already own a home and you want to consolidate your high-interest credit cards, you may want to consider a home equity loan. When you take a home equity loan, you're borrowing a lump sum and repaying it according to a predetermined schedule. A home equity line of credit is different – it's a credit line that you can draw on again and again until you've borrowed the limit.
One thing to remember if you're trying to get an equity loan and you have bad credit is that you may be limited as to how much of your home's value you can draw against. You may also need to pay a bigger origination fee and a higher interest rate than someone with better credit.
Bad credit payday loans: Are they a good borrowing option?
In-store and online payday loans for people who have bad credit provide fast cash when you need money in a pinch but you should approach them with extreme caution. The premise is simple: a payday lender lets you borrow a certain amount of money using your next paycheck as your collateral. When you get paid, the lender takes the money electronically from your bank account, along with any interest and fees the lender charges.
It sounds fairly easy but there's a catch. Lenders who issue payday loans for people who have bad credit seem to operate on the premise that other borrowing avenues may be closed to you because of your credit score. They charge a premium for lending you money in the form of an astronomically high APR, invariably in triple digits and sometimes topping 1,000%.
If you can't pay off the loan when your paycheck comes in, they give you the option of rolling over your original loan into a new one and the interest and fees just keeps piling up. Before you know it, you're trapped in a vicious cycle that you can't dig your way out of and your debt balance is growing day by day. The bottom line? Payday loans are best avoided if you don't want to do even more damage to your finances and credit.
If you do consider a payday loan, remember that their interest rates are usually expressed in monthly terms. Multiply the number by 12 to find the APR. A payday loan with a 36% monthly rate may sound fair but it actually has a 432% APR.
Finally, know that the average payday loan customer rolls the loan over eight times. That means signing up for a new loan because you can't afford to pay off the loan by the due date. Each time you roll the loan over you pay a whole new set of fees. It is not uncommon for payday borrowers to pay fees and charges that are greater than the original loan amount.
Finding debt consolidation loans for bad credit
Consolidating credit cards, loans or other lines of credit can help your credit score but only if you do it the right way. Unsecured personal loans for people who have bad credit allow you to roll all your payments into one without offering any personal assets as collateral.
When you take out a loan for debt consolidation you use the money to pay off your other debts. You then make one payment each month to the consolidation loan lender. The goal is to streamline your payments and lower your interest rate so you can pay the debt off faster.
If you've got bad credit, spend some time comparing loan options to see who's got the best rate and what the fees are.
Otherwise you will end up in much deeper trouble than you started in. If you know you can keep the accounts open without adding more debt, do so since 10% of your FICO credit score is based on the average length of your credit history.
Bad credit student loans
When you apply for federally guaranteed student loans, your credit history doesn't come into play. The government assumes that most college students haven't had the chance to establish a strong credit history yet.
It's a different story, however, if you apply for private loans.
Private student loan lenders consider your credit history as part of the application process. If you've got a low credit score because of a past credit mistake or you haven't used credit long enough to work your way to a higher score, you might not qualify. A co-signer may be the only option if you really want the loan.
First, figure out if you can avoid the loan. No matter what the rep says, no school program can guarantee you a healthy – or even a minimal – income after graduation. If you can't qualify on your own and you don't qualify for federally-guaranteed loans, consider a less costly program or spend a couple of years saving money first. Also, many large companies and employers may offer tuition assistance. See if you can land a job for a company that will give you free money for school.
When you ask a parent or anyone else to co-sign for your loan, the lender will look at that person's credit history and score as well as yours. As long as he or she been responsible with credit, a co-signer can mean loan approval. Just know that when someone else signs their name to your loan, they're assuming full liability for the debt. If you default, the lender can and will go after your co-signer to collect what's owed.
Approximately 70% of all graduates leave school with student loan debt. We looked at Credit Sesame members — Millennials in particular, and broke down some scary numbers, including student loan debt.
Business loans for bad credit
If you're trying to get a business off the ground or maintain positive cash flow for an existing venture, a loan is one way to cover the gap. While bank loans for those who have bad credit are harder to come by, several other options exist to borrow money for business-related expenses.
Merchant cash advance lenders, for example, make large and small loans for businesses who cannot qualify for bank loans or other loan/credit products, without putting your credit history under the microscope. Instead, a merchant cash advance depends on your business revenue and how much revenue you have coming in from sales each week.
Invoice financing is another option if you have unpaid invoices that you reasonably expect to collect on in the near future. Invoice lenders loan funds against amounts invoiced. It's possible to borrow up to $500,000 this way, even if you have a credit score that's in the 500 to 550 range.
The most important caveat to keep in mind with business loans for those with bad credit, is the price for the convenience. For certain types of financing, the APR hovers around the 100% mark. Understand how the interest will affect your business's bottom line in the long run, and for a more in-depth picture of small loans for those with bad credit, check out Fundera.com.
Bad credit mortgage lenders
In a nutshell, getting a mortgage when you have bad credit means you'll pay a much higher interest rate than your good credit peers. While bad credit doesn't always equal a denied application, it's likely to make the road to homeownership more difficult.
[Related: What is a Good Credit Score]
Lenders search for borrowers with a stable income, great credit, and the willingness to pay interest on a loan. Since the housing crisis of 2007-2008, mortgage lenders have tightened requirements for home loans.
Improving your chances isn't impossible. Some banks and mortgage companies even specialize in obtaining mortgage loans for people who have a less-than-perfect credit history.
The first step to getting a mortgage is finding out exactly where you stand. The lender will use a 3 bureau credit report to evaluate your creditworthiness. This tri-merged report includes data from all three major credit bureaus (Equifax, Experian and TransUnion). You can get an advance look at what the lender will see by requesting a copy of your credit report from each of the credit reporting agencies by visiting AnnualCreditReport.com. These are free once every twelve months. If you need additional copies sooner, you'll have to pay a fee. You can also check your credit and score now and every month, for free, on Credit Sesame.
Look at your credit reports before you approach a mortgage lender.  Certain types of data throw up a red flag to lenders:
Bankruptcy within the past 10 years
Collections
Judgments
Tax liens and overdue taxes
Loan default
Revolving accounts that are over the credit limit
Accounts that show late payments
A decent FICO credit score may get you into a car or apartment, but mortgage lenders look closely at your entire credit history. While your FICO credit score still matters, the contents of your credit reports and the credit scores generated by TransUnion, Experian, and Equifax will ultimately make or break your mortgage application.
If you see errors on your credit reports like accounts that should have aged off your report (7 to 10 years), accounts that do not belong to you, or errors in your name or address, it's important to dispute them immediately with the credit bureau reporting the error(s). Millions of credit score errors are serious enough to affect your score.
Other tactics to clean up your credit include bringing your revolving debt balances down to below 30% of your credit limit on each account. Two cards with low balances are better than one card maxed out. Pay your bills on time. Payment history weighs most heavily on your credit score, so one option is put your bills on auto-pay to ensure the payments arrive on time, but you still need to keep watch as occasionally your creditors may change their payment due date. Avoid closing any accounts until after you've secured your mortgage.
Here is the formula FICO uses to calculate your score. You can use this as a guide to bring up your score, if you are looking to improve it in the near future.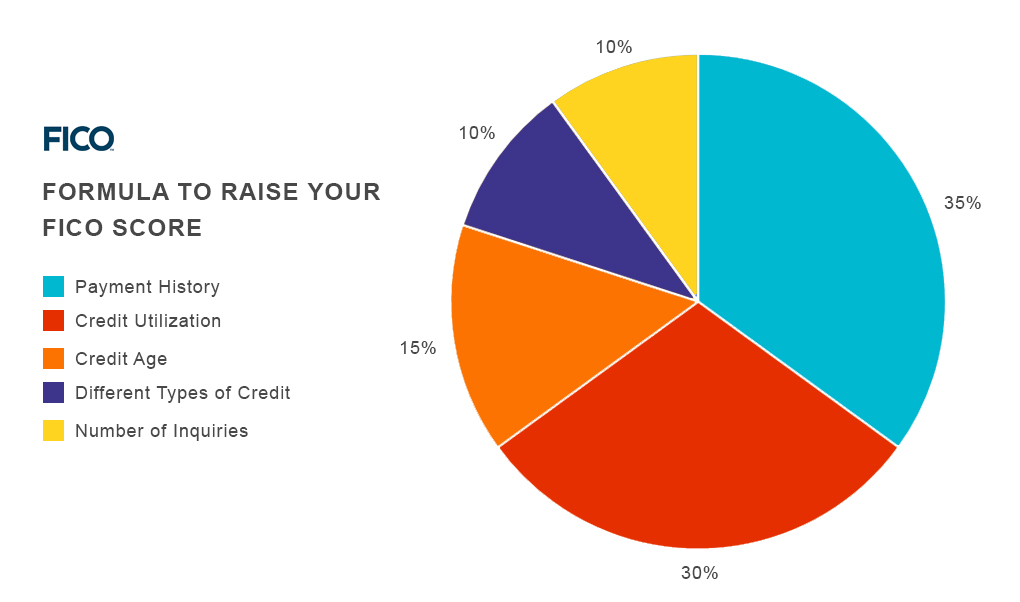 How to find bad credit mortgage lenders
Many banks, credit unions, and mortgage companies cater to the wants and needs of people who can't produce an excellent FICO credit score (an excellent credit score range is generally considered to be 720 and higher). Subprime credit scores mean higher interest rates, and more than half of Americans have credit scores that fall into a less-than-desirable range. Scores below 649 are considered "poor" according to the mortgage industry.
[Related: Highest Credit Score]
For prospective homeowners with a military background, a VA loan is a good option to explore. VA loans have no required down payment. They also don't require traditional private mortgage insurance (PMI), which makes the total mortgage payment lower. The minimum credit score for most VA loans is 620.
The Federal Housing Administration (FHA) offers an option for borrowers with a minimum credit score of 580 and a 3.5% cash down payment. You can qualify for an FHA loan with a score lower than 580 if you can swing a higher down payment; a score as low as 500 may be enough if you also have a 10% down payment and other favorable factors like stable employment history and verifiable income. The FHA also accepts an inheritance or a gift as a down payment, making this type of loan one of the best options for many borrowers with bad credit and limited financial means who would like to get a home loan.
Borrowers with credit scores above 620 should try to qualify for a conventional loan backed by Freddie Mac or Fannie Mae. With this type of loan, you must put down 20% of the purchase price to avoid paying a monthly PMI premium. If you can't make any kind of a down payment, but your credit score is better than 620 and you'd like to live in a rural area, a USDA loan is worth pursuing.
Subprime mortgages are harder to get than they were just a few years ago, but they are still available. Just be mindful of the interest rates and fees. Even a one percentage point difference in your interest rate could add tens of thousands of dollars to the price of your home over the course of a 30-year mortgage.
How to get mortgages for those with bad credit
If you've been denied for a mortgage loan because of having bad credit, ask the lender for the exact reasons. In some cases, a bigger down payment, correcting an error, or providing additional information may increase your chances of getting approved the second time around.
Some lenders, especially the ones that deal specifically with subprime borrowers, are willing to look at extenuating circumstances. For example, if you can prove that you've paid your rent on time every month for the past year and you are requesting a loan amount that results in a mortgage payment about the same as your rent payment, you may have a case.
A mortgage broker that is familiar with many different subprime lenders can help you find a loan to suit your needs. Your chances of getting a mortgage for people who have bad credit may increase if you seek the advice of an experienced broker. Certain lenders cater to borrowers with low income, while others specialize in creating mortgages for people who have limited documentation, high debt-to-income ratio, or a short credit history.
Getting a mortgage if you have bad credit is an option for some people. Success or failure depends on how much money you have for a down payment, whether you can improve your credit score in the short-term, and how willing you are to search for the right lender.
Also keep in mind that credit card issuers and all lenders look at more then just your credit score when evaluating you for a credit line or a loan.
---
Advertiser Disclosure: Many of the offers that appear on this site are from companies from which Credit Sesame receives compensation. This compensation may impact how and where products appear (including, for example, the order in which they appear). Credit Sesame provides a variety of offers, but these offers do not include all financial services companies or all products available.
Credit Sesame is an independent comparison service provider. Reasonable efforts have been made to maintain accurate information throughout our website, mobile apps, and communication methods; however, all information is presented without warranty or guarantee. All images and trademarks are the property of their respective owners.
Editorial Content Disclosure: The editorial content on this page (including, but not limited to, Pros and Cons) is not provided by any credit card issuer. Any opinions, analysis, reviews, or recommendations expressed here are author's alone, not those of any credit card issuer, and have not been reviewed, approved or otherwise endorsed by any credit card issuer.
Provider's Terms: *See the online provider's application for details about terms and conditions. Reasonable efforts have been made to maintain accurate information, however, all information is presented without warranty or guarantee. When you click on the "Apply Now" button, you can review the terms and conditions on the provider's website. Offers are subject to change and the terms displayed may not be available to all consumers.
The information, including rates and fees, presented in this article is believed to be accurate as of the date of the article. Please refer to issuer website and application for the most current information. Verify all terms and conditions of any offer prior to applying.
Responses are not provided or commissioned by the bank advertiser. Responses have not been reviewed, approved or otherwise endorsed by the bank advertiser. It is not the bank advertiser's responsibility to ensure all posts and/or questions are answered.
Reviews: User reviews and responses are not provided, reviewed, approved or otherwise endorsed by the banks, issuers and credit card advertisers. It is not the banks, issuers, and credit card advertiser's responsibility to ensure all posts are answered. The Credit Sesame website star ratings are an average based on contributions from independent users not affiliated with Credit Sesame. Banks, issuers and credit card advertisers are not responsible for star ratings, nor do they endorse or guarantee any posted comments or reviews.
Disclaimer: The article and information provided here is for informational purposes only and is not intended as a substitute for professional advice.