Credit Sesame discusses what to do if you are having trouble with credit card payments.
More Americans are struggling to find money to make their minimum credit card payments on time. For a combination of reasons, budgets are suddenly a lot tighter. One result of this squeeze is that more and more consumers are finding no room left over to make their monthly credit card payments.
Missing your credit card payments is a serious problem. Fortunately though, you have options to manage the situation.
More People Are Falling Behind on Credit Card Payments
This year, the US economy has experienced a level of inflation it hasn't seen in over 40 years. Since most people in the US weren't alive 40 years ago, the impact of that kind of inflation has taken many by surprise.
The same groceries you used to buy week to week and the same bills you'd pay month to month suddenly no longer fit neatly into your budget. For some people, there just isn't enough room in their paychecks for the higher prices.
Credit Sesame took a poll of over 1,200 people to ask them about the impact inflation was having on their finances. One thing the poll found was that a lot more households are now spending every penny they earn – or more: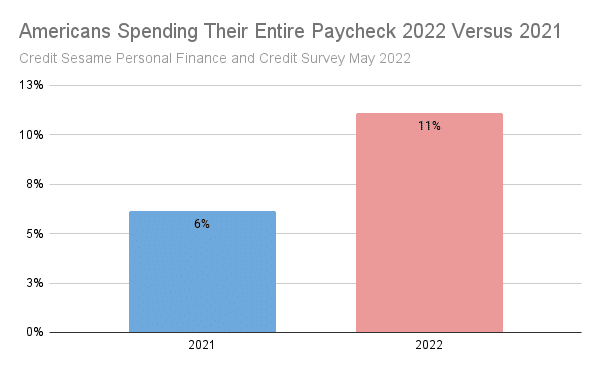 When people are spending everything they make, there is nothing left for an unexpected expense. Or the next price increase. That means something's got to give. Unfortunately, in some cases what gets skipped is the monthly credit card payment. The Credit Sesame poll found that more credit card users are failing to make their payments on time this year: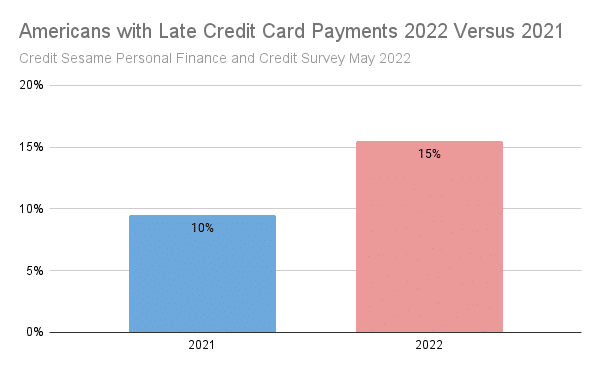 Challenging financial conditions are causing more people to miss credit card payments. Unfortunately, those late payments can make the situation even worse.
Bad Things Happen When Your Credit Card Payments Are Late
Missing payments may cause your debt problem to snowball. Here are some of the things you should expect to happen if you start habitually missing payments:
You pay more interest as missed payments cause your debt to grow rather than shrink. By not paying down any part of what you owe, you pay interest for a longer time. Plus, interest on interest adds to what you owe.
Late payment fees are added on top of the compounding interest you owe. These fees further increase your balance, meaning next month's minimum payment is even higher.
The credit card company may increase your interest rate. Credit card rates reflect how risky a customer's credit is. If you start missing payments, you are viewed as a higher risk.
The credit card company may decrease your credit limit, giving you less access to credit just when you're relying on it more. One way credit card companies control their risk is to make less credit available to riskier customers. If you miss too many payments, they may also cancel your card – but not your debt.
Your credit score may drop, making it more difficult to get credit elsewhere. Each missed payment is reported and looks bad on your credit history.
In a sense, every credit card payment you miss becomes a bigger problem later on. To avoid that, it is wise to have a sense of urgency about attacking the immediate problem while it's still manageable.
Dealing with the Immediate Problem
To stop your credit card debt problem from getting steadily worse, here are some steps you can take:
Get organized. Too many people miss credit card payments simply because they overlook them. Have a regular schedule for reviewing and paying your bills. Also consider automated payments, though you have to make sure there's money available in your account when those payments come due.
Consider refinancing credit card debt. Credit card interest rates are very high, and some are higher than others. If you can find one with a lower rate, you might lower the cost of your debt. A personal loan might also offer a cheaper rate.
Use debt consolidation as a broader refinancing move. Debt consolidation is like refinancing, only you replace multiple debts with one new one. If you have multiple credit card balance, debt consolidation might help. Done correctly, this could help you both lower your interest rate and organize your payments.
Negotiate different payment terms with your credit card company. If you can't find any way to keep up with your current payments, contact your credit card company to see what flexibility they can give you. If you show you intend to pay what you owe, they might give you a break on your interest rate or give you more time to pay. This won't reduce your debt, but it could slow the pace at which interest and penalties are adding to it.
There are more drastic moves to make if you can't find a way out of your credit card debt problem. These include debt settlement and bankruptcy. However, those actions have long-lasting consequences. Before you resort to something that could compromise your credit record for several years, try one of the less drastic solutions to your credit card payment problems.
Finding a Long-term Solution
Once you've gotten a handle on your immediate payment problem, you need to find a lasting solution to your debt habit.
Your goal should be to pay more than the minimum amount required each month and not just the minimum payment. This reduces what you pay in interest, making your credit card usage more affordable.
It may take some budget tightening to come up with those payments. As hard as this is, now that inflation has raised prices on so many things you have to reassess what you can afford from month to month.
Overall, your goal should be to reduce your reliance on credit card debt. Credit cards work best when you use them as a convenient substitute for cash, then pay off your balance each month.
If you find yourself carrying a long-term balance, you've chosen a very expensive form of debt. Until you can start reducing the balance, there's a chance you may get to a point where you can't make your monthly payments.
You may also be interested in:
---
Disclaimer: The article and information provided here is for informational purposes only and is not intended as a substitute for professional advice.
---
Survey methodology
The Credit Sesame Personal Finance and Credit Survey 2022 was designed and executed by Credit Sesame using the Momentive Inc. survey tool. General population data was collected online May 20-21, 2022. The survey sample comprised 1,222 U.S. residents aged 18 to 99 years balanced for age and gender using U.S. Census data. The sample data is accurate to within + 2.88 percentage points using a 95% confidence level.