Credit Sesame discusses using your employee review as an opportunity to make a case for a pay raise.
You and your boss may dread employee reviews. Your manager, because they are they may be faced with delivering unpleasant news or completing multiple reviews within a limited time. You, because it always feels a bit weird having someone comment on your performance.
Annual reviews are mutually loathed by workers and employers so much that some companies have done away with them altogether. That might sound like a relief to some employees, but the truth is that nixing reviews is a loss for workers.
The annual review is a valuable opportunity. Its financial impact over the course of your career may be greater than you think. The tight job market at the end of 2022 makes your employee review a golden opportunity if you handle it correctly.
Workers are desperately needed
Why is this opportunity so valuable now in particular? It comes down to supply and demand. The supply of workers is relatively low, while the demand for employees is high. Over the past 20 years, the unemployment rate has averaged 6.0%. Currently, the latest Bureau of Labor Statistics report has it at 3.7%.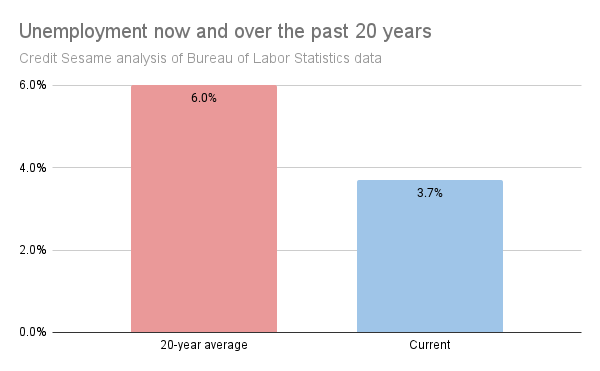 https://docs.google.com/spreadsheets/d/1kIFIFLtrctHONQYXJLw7QGmvG3Bi6Kh9x3-p4vfKbJ4/edit?usp=sharing]
Not only are relatively few people in need of jobs, but there are more than enough jobs to go around. There are about two job openings for every person looking for work. This is a reversal from the norm over the past 20 years, when there have typically been more than two job-seekers for every opening. At the end of 2022, jobs are plentiful, and there simply aren't enough workers to fill them.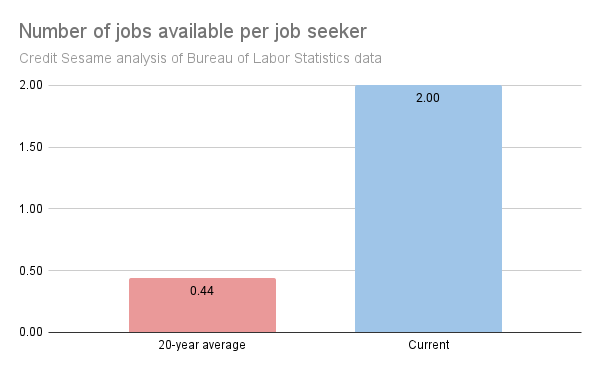 [insert chart from "Job openings per seeker" tab of "Employee review spreadsheet]
You and your boss are unlikely to have experienced this situation in your careers. The upshot is that if you are a valuable employee, you may be able to negotiate a pay raise.
Will employers give you a larger pay raise?
Despite the unusually strong demand for labor, old habits die hard. Company guidelines for normal raises have been slow to reflect the shortage of workers.
Two recent surveys reflect this disconnect. Consultants Willis Tower Watson found that employers are planning on giving an average pay raise of 4.6%. However, human resource professionals surveyed by the Society for Human Resource Management feel it may take a raise of 8% to 10% to satisfy most workers.
Your boss is unlikely to grant you a higher than usual raise this year automatically. You may have to ask for it – and make a compelling case for it.
The future value of a pay raise now
Suppose you are 30 years old and earning $60,000 a year. You have 35 more years to go before you reach a typical retirement age of 65.
Now let's say your company generally implements annual pay increases of 4%. If you make the case for an annual raise of 6%, how much is that extra 2% worth over your career?
If it's a one-off raise of 6% and then 4% annually thereafter you stand to earn an extra $84,000 over the course of your career.
If you set a precedent and establish a 6% annual pay raise every year thereafter you stand to gain more than $2.25 million in extra career earnings by the time you are 65.
If you feel awkward asking for more than the usual pay raise, keep that in mind.
How would you feel about a pay cut?
Here's another way to consider why you may want to avoid accepting the standard pay raise. You may be effectively taking a pay cut.
Wages and salaries rose by an average of 5.1% for the year ending September 30, 2022. Meanwhile, the Consumer Price Index rose by 8.2% over the same year.
A pay raise under 8.2% does not make up the difference for the reduced buying power of your money. At the very least, you may want to shoot for a pay increase that keeps pace with recent inflation.
Make the most of your next employee review
Current employment conditions provide leverage to ask for a better wage this year. Increased future earnings are a great incentive. Keeping up with inflation means you benefit immediately.
Here are six things you can do to get more out of your next employee review:
1. Document your accomplishments
Take the time to list your accomplishments as evidence of how you add value to the organization. This is not the time to assume your manager understands your value or to make vague claims about how useful you are.
2. Know what you're worth
Get an idea of how much people with your skills and experience typically earn. Chances are, your employer knows what it would cost to replace you. It's only fair that you have that same information when you head into your annual review. It's good for you to know the job market, too. Maybe there's something better if you don't get the raise you want.
3. Don't give an ultimatum
As much as you need to be assertive, don't psych yourself up so much that you become confrontational. Most people, and especially managers, don't respond well to an ultimatum. Even if they choose to appease you, for now, it may poison your future relationship.
4. Discuss measurable goals for the next year
Make sure your boss states clearly what you must accomplish in the coming year. That can guide your efforts and give you benchmarks for demonstrating how much value you add in your next review when you make the case for another raise.
5. Suggest an off-calendar cycle
Companies often complete employee reviews all at once. The timing is usually tied to the calendar year or the company's fiscal year. This can be challenging for a manager with multiple employees. You may find a receptive audience if you suggest a different cycle for your review.
6. Ask about promotion opportunities
Feel free to ask about promotion opportunities but refrain from making demands. Demonstrating that you excel at your job can earn you bigger pay raises, but real compensation breakthroughs require moving up in the organization. Have at least an annual discussion about career pathways with your boss. Find out what you need to do to be considered for promotion so you can focus on skills, training or whatever else is required to get ahead.
Your career is the most valuable financial resource you have, probably. Putting in the effort once a year to maximize earnings may be the most rewarding personal finance move you can make.
You may also be interested in:
---
Disclaimer: The article and information provided here is for informational purposes only and is not intended as a substitute for professional advice.