Credit Sesame provides five tips on how to become financially independent.
Why you should Become Financially independent
Some people are gifted money managers and seem to glide through life like a swan across still water. Others find managing finances more challenging. If you become financially independent, you are more likely to manage through periods when money gets tight, especially at a time when bad economic times loom ahead.
Being financially independent doesn't mean being independently wealthy. You don't need to be rich to achieve this sort of independence. It means you'll rely less on others (lenders, employers, family) to see you through economic storms.
Five tips on how to become financially Independent
Achieving financial independence is a process. You're unlikely to get there in in a few months. But the sooner you start, the sooner you'll be managing your finances successfully without help. Stick with the program, and you could be in much better shape to meet challenges that may be on the horizon.
1. Make a household budget
This first tip costs you nothing except a few hours of time. Start by looking at your spending over the last few months. Break it down into categories, for example, rent, utilities, grocery shopping, car loan, gas, fun. You need to decide what works for you. You can do this on a pen and paper or a spreadsheet on a computer if you have one and know how.
How does having a budget help you become financially independent? Looking at historic spending gives you an understanding of what's happening to your money. You'll probably have a few moments of, "Do I really spend that much on gas?" This is a starting point. You may see that you can save significant funds by only going out on the town once a week instead of twice. Importantly, you can set yourself future goals and track your progress.
In other words, you can take control, choosing to maintain the spending that genuinely improves your life and cutting out waste. With luck, you can free up some spare cash each month.
You might prefer to invest in a specialist app that takes away a lot of the grunt work. YNAB (You Need a Budget), for example; although, there is a cost associated with this.
2. Start or build your emergency fund
Most (56% of) Americans couldn't cover a $1,000 unexpected bill out of their savings, according to CNBC in 2022. The Credit Sesame Personal Finance and CreditSurvey May 2022 asked a slightly different question but revealed that in May 2022, nearly 1 in 5 (18%) Americans had no savings or emergency funds at all. This was in increase from May 2021.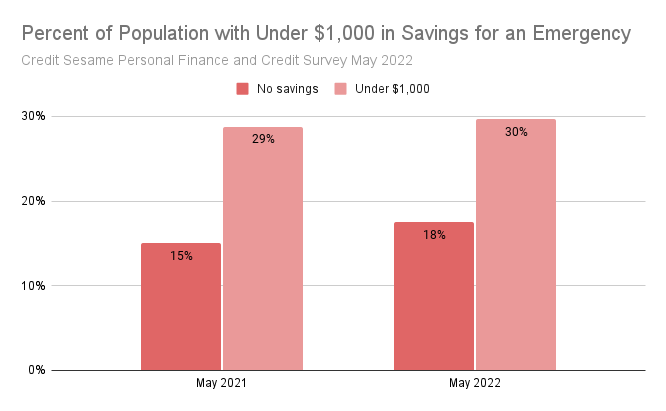 If you have to borrow for an emergency, you could face high interest rates on their credit cards or payday loans. With expensive bills commonplace for medical costs, and vehicle or home repairs, that's a worrying thought.
Having an emergency or rainy-day fund means being able to ride out such events. It provides you with a cushion for unexpected expenses. High inflation is already forcing people to cut back on doctor visits, and likely on car servicing and home maintenance, too.
At the time of writing this article in June 2022, many economists are forecasting a recession. This may threaten jobs and working hours. Going into a recession without an emergency fund is like going into battle unprotected and unarmed. You're likely to get hurt.
3. Pay down your debt
Most debts (except fixed-rate mortgages) have variable rates. The ultra-low rates of 2020 and 2021 are probably history. At the time of writing, the Federal Reserve had just hiked its key rate by the biggest amount since 1994. Judging from rhetoric, it plans to maintain that sharp upward trajectory for months to come. As NPR put it: "Higher rates will make it more expensive to carry a credit card balance, get a car loan or buy a house."
Paying down your existing debt now brings two benefits:
You pay less in interest

You should have headroom to borrow more if the need arises
Maybe you wonde which to prioritize: your emergency fund or your debt reduction? The answer depends on your circumstances. If you have a lot of high-interest debt, such as credit card balances, you should probably pay those down first. But if your debt is mostly installment loans (ones like auto, personal and student loans) then you should probably focus on your emergency fund.
4. Get your credit score in shape
Now's the time to boost your credit score.Having a high credit score makes borrowing less expensive. Paying down your credit card balances should help a lot with that. You should try to keep each card's balance below 30% of its credit limit. When actively working on improving your score, you should aim for 10%. At the same time, keep your score high by:
Paying every bill on time

Not opening or closing credit accounts unnecessarily
There are a couple of exceptions to that second point:
Feel free to close a credit card account that comes with an annual fee if that fee isn't delivering the perks you value. Your score might take a small, temporary hit, but you can put the money you save toward reducing your remaining cards' balances

If your score is currently good, get a new credit card. The more cards you have, the more you can spread your spending, keeping each balance as low as possible. That, and you may need extra borrowing capacity if things get really tough. Alternatively, you could ask your existing card issuers to increase your credit limits
5. Review your investments
If you have a stock portfolio, now might be a good time to review it. There are two main categories of stocks and many investors are currently switching from one to another. The wealth management division of Bank of America, Merrill, explains:
Growth and value are two fundamental approaches, or styles, in stock and stock mutual fund investing. Growth investors seek companies that offer strong earnings growth while value investors seek stocks that appear to be undervalued in the marketplace. Because the two styles complement each other, they can help add diversity to your portfolio when used together.
Growth stocks have until recently been doing very well. Technology companies are a good example of these. People buy them because they're expected to grow rapidly, even if they're delivering low, zero or negative profits now.
But, in May 2022, The Financial Times (paywall) ran the headline, "Value stocks shield investors from worst of 2022 market storm." And the article continued:
Value stocks are providing investors some shelter from the storm sweeping markets, as portfolio managers seek out bargains and dump high-flying companies that have been in vogue since the wake of the financial crisis.
Read up on trends in the financial press, consult professionals, and be ready to adjust your portfolio to meet changing market conditions.
You may also be interested in:
---
Disclaimer: The article and information provided here is for informational purposes only and is not intended as a substitute for professional advice.
---
Survey methodology
The Credit Sesame Personal Finance and Credit Survey May 2022 was designed and executed by Credit Sesame using the Momentive Inc. survey tool. General population data was collected online May 20-21, 2022. The survey sample comprised 1,222 U.S. residents aged 18 to 99 years balanced for age and gender using U.S. Census data. The sample data is accurate to within +/- 2.888 percentage points using a 95% confidence level.