The busiest shopping season of the year kicks off with Black Friday, and for most of us that means spending more than we normally would on our credit cards at any other time throughout the year. But it also means rewards — credit card rewards— and potentially, lots of them.
Used wisely, there are many rewards credit cards that can be a great tool for earning everything from bonus points to travel miles to merchandise to cash back on your holiday purchases. Plus, many card issuers sweeten the deal by offering new cardholder bonuses, be sure you understand any requirements that need to be met to earn the bonus. Some cards have no annual fees and offer 0% Introductory Annual Percentage Rate (APR) on purchases and balance transfers to help cardholders not only earn, but save beyond shopping for Christmas.
So if you're looking to maximize your holiday spending and put a little bit of that holiday cheer back into your own wallet, with responsible credit card management by you the right rewards credit card just might help you do just that. Here we highlight our top picks for the best credit cards on the market this holiday shopping season.
In order to view other credit card offers, please click here.
For those with Average or Fair Credit, fret not. You can still earn rewards or cash back here's one you may want to consider:
Capital One® QuicksilverOne® Cash Rewards Credit Card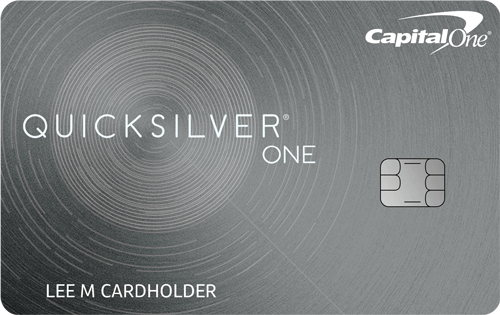 Similar to the Quicksilver® card (mentioned below), the Capital One® QuicksilverOne® Cash Rewards Credit Card offers unlimited 1.5% cash back on every purchase, every day. We think it's a good choice for those with average, fair, limited credit looking at a simple earnings structure. A nice feature is access to a higher credit line after you make your first 5 monthly payments on time. You can learn more about this offer and see the terms and conditions on the Capital One® QuicksilverOne® Cash Rewards Credit Card application page. This card has a $39 annual fee.
For those with Excellent/Good credit earn cash back with an option provided here:
Capital One® Quicksilver® Cash Rewards Credit Card

For those looking for a steady cash back rate on purchases of unlimited 1.5% cash back on every purchase, every day, no rotating categories or sign ups needed to earn cash rewards; plus, cash back that won't expire for the life of the account and there's no limit to how much you can earn, the Capital One® Quicksilver® Cash Rewards Credit Card may interest you. The card is currently offering qualified new Cardmembers a one-time $150 cash bonus after you spend $500 on purchases within 3 months from account opening. With no annual fee this could be a good choice for all around general spending. You can learn more about this offer and see the terms and conditions on the Capital One® Quicksilver® Cash Rewards Credit Card application page.
It's tempting to use plastic to pay for holiday purchases. And that's not necessarily a bad strategy, as long as you take some sound advice with you to the mall along with your naughty and nice list.
These tips will help you use your credit cards to your advantage, should you decide they're the best option to pay for holiday gifts, gadgets and trinkets this year.
Don't shop without knowing your balance
If you don't know your balance, you could exceed your credit limit while you're shopping, and that can get costly. That's because you risk having a credit utilization ratio that's very high.
"Your utilization ratio is the amount of credit you've used to the amount of credit you have available. For example, if you have a $1,000 across all your credit cards, and you have $300 of debt, then you've got a 30 percent utilization ratio," says Beverly Harzog, a consumer advocate and credit card analyst/expert in Atlanta, Georgia.
So if you max out your card, you're going to increase your ratio. Going above 30 percent can have a negative impact on your credit score, warns Harzog. "Your utilization ratio makes up 30 percent of your FICO score. That's significant!"
"To be able to exceed your credit card limit, you have to 'opt in' and be willing to pay an over-the-limit fee, which averages around $29 to $39," says Harzog. To find out what the fees apply, check your credit card's terms and conditions disclosure statement.
If you haven't opted in, your credit card will be denied at the register. "It's best, of course, to avoid going over your balance, so opting in isn't something I'd recommend," says Harzog.
Brush up on your rewards
Harzog cautions that too many shoppers could be unnecessarily spending money at the mall this year because they're not tapping into unused rewards lurking around to offset some holiday gift expense.
"You can use reward points for all kinds of gifts," she says. "I do all my holiday shopping with a rewards card because I want the cash back."
But Harzog also says she doesn't carry a balance on her rewards cards and she doesn't charge more than she can pay in full when the bill arrives. "Rewards cards have higher APRs so if you carry a balance, you'll just wipe out your rewards. That's why I don't carry a balance on those cards."
Be wary of helpful cashiers
Holiday check-out lines are stocked with smiling sales people offering you discounts, bonus points and so on if you opt to open – and charge your purchase – a new store credit card.
These cards have high interest rates and applying for one can ding your credit score a little. Harzog suggests reading – not skimming – the card's disclosure statements before agreeing to that 10 or 15 percent off your purchase. "Check the purchase APR, how long the grace period is so you can avoid paying interest, if there's an annual fee, and if there are any other fees that come with the card," she cautions.
For instance, getting 10 percent off of a $100 flat screen creates a "sale price" of $90. That, plus applicable sales taxes, is charged to your new account that has a whopping 21 percent Variable APR. Unless you pay off the entire balance when the first bill arrives, that discount will be costly. If you pay only the minimum monthly payment (in this case about $10) the price for that "sale" TV just jumped to about $107 the 31 days after you bought it. That's $7 more than if you never opened the card and just paid the full non-promotional price. Now imagine that on a larger purchase amount, like $500, $1000 or more.
Say for example the store cards charge 22.9 to 26.99 percent Variable APR on purchases, that checkout 'discount' could cost you double – or more – than if you paid full price depending on how long it takes you to pay off the card's balance.
"If you've read the disclosure statements and it looks like you'll benefit from the card, then go ahead and apply. But don't apply for a store credit card unless you make a vow to yourself that you'll never carry a balance," says Harzog.
Holiday gift cards – what you really need to know
The National Retail Federation says that during the holiday season, gift cards are not only the no. 1 most purchased item, but also the no. 1 most desired item. So let's get the facts straight before you purchase more plastic.
Rule #1: Know What They Really Want Or Else
My brother is easy. He likes Hollister or one of those trendy man-boutiques where a $100 gift card will barely cover the cost of a t-shirt. But if you're buying for someone whose tastes are harder to identify, you can still go the gift card route. Gift cards come in a couple of forms: open-loop cards (those that are issued by a bank or credit card) or closed-loop cards (those issued by a retailer for use only with that particular retailer).
Open-loop cards are growing in popularity because they can be used at any store just like a credit or debit card; however, with that freedom may come additional fees and restrictions.
Rule #2: Ask About Fees
If you buy a retail gift card, don't forget to ask about additional or hidden fees, such as a purchase fee.
Expect that if you buy the gift card online or over the phone, you will pay a shipping and handling fee. For example a prepaid Visa gift card purchased through a bank could cost you $4.95 in shipping. Express delivery (2-3 business days) could cost an additional $15.95. While a great majority or retailers will ship your gift card purchase for free, some have nominal fees.
On top of shipping, there may be service charges to ask about. Service charges apply to online or over-the-phone orders. For example, you could be charged $3.95 service fee for online buyers. Sometimes fees are even more expensive for those ordering over the phone.
Rule #3: Ask About the Fees for the Recipient
Nothing like a boat load of fees to ruin the holiday spirit, huh? Well, for many bank cards, the fun has just begun. Most cards include a maintenance fee, sometimes charged monthly from the beginning of activation and sometimes charged only after the first six or 12 months. Check and then let your recipient know that he or she should use their gift card promptly to get the most out of it.
Rule #4: Keep Track of Your Balance Yourself
Most cards will have a number on the back with which you can check the balance, or with retail cards, you can check at the location. Beware, bank cards can have sneaky fees attached to this seemingly benign activity.
Rule #5: Use ATMs with Caution
Unlike retail cards, bank cards can often be used at ATMs, but often a hefty fee is attached. Check before you use your gift card this way.
Rule #6: Use Your Gift Card Like Cash (Read: Don't Lose It)
While there are a growing number of retailers who will replace a lost or stolen gift card, most treat gift cards like cash, if you lost it or it's stolen, it's gone.
Bank cards are typically more generous in this department, but expect a (surprise!) fee, for example they could range anywhere from $5.95 to $15 for a replacement card, or more.
Rule #7: Find Out About Expiration Dates
Thanks to Phase III of the Credit CARD Act, which went into effect Aug. 22, 2010, the life of gift cards have been extended to five years. One caveat: those maintenance fees can still eat away at your balance. It's still best to use your card right away.
Breaking the Rules What if you *gasp* get a gift card that you don't like? Sites like giftcardtrader.com and plasticjungle.com make trading, buying and selling gift cards easier than ever. Now, if only those sites had been around when my uncle gave me that Country Store gift card. Oh well.
Post-holiday blues
Unfortunately, you've got more hanging around from the holidays than just a pesky five pounds and a brown evergreen wreath that you keep forgetting to take down from your front door. You went "a little" overboard buying gifts for people — and you have a mountain of credit card debt, along with, say for example, a 14 percent Variable Annual Percentage Rate (APR) on your purchases, to show for it.
But now that it's post V-Day and you're still staring down another six weeks of winter (thanks, Punxsutawney Phil!), those revolving balances on your credit cards are giving you major agita — not to mention, costing you a pretty penny, too. In 2013 Consumer Reports estimated that 7 percent of all shoppers went into the 2014 holiday season carrying debt from the previous holiday shopping season. You certainly don't want to be making payments on this debt for another 10 months, so you've resolved to pay off lingering post-holiday credit card debt for good. Here are six strategies that may help.
1. Go on a spending freeze.
The idea of this might have you crying "no, no, no!" but eliminating all those non-essential expenses (think: dinners out, mani/pedis, and bulky winter sweaters marked half off) is one of the fastest ways to dig yourself out of debt. If you feel like you can't give up all the pleasures of life until your balance owed is zero, go on a spending diet for a month — or even a week — at a time until you've completely paid off your plastic.
2. Transfer your balance.
Now that your naughty shopping behavior has caught up to you, redeem yourself by taking advantage of a 0% Introductory APR balance transfer offer. Moving your existing balance to a new credit card that has a low or zero percent introductory APR offer for balance transfers can be a financially savvy way to pay off credit card debt without all the added interest. You'll likely have to pay a balance transfer fee (usually 2-5% of the total transferred balance so be sure to do the calculations to make sure transferring your balance makes sense, meaning make sure the balance transfer fee does not cancel out your potential savings), but assuming that you attack your revolving balance aggressively and pay it off before the promotional period ends and manage your account responsibly — while not racking up any new charges— you'll potentially end up saving money.
3. Determine your preferred payment plan.
Do you want to pay the least amount in interest? If so, determine which credit card you own has the highest APR and put as much as possible towards paying down/paying off that balance first while paying just the minimum balance due on all your other cards. If you need the mental boost of paying off one card, however, focus the bulk of your money towards the lowest balance. Then, once you've eliminated it, turn your efforts towards the second lowest and so forth.
4. Consolidate your debt.
Did you fall victim to every salesperson who asked, "Would you like to open a store credit card and save 10 percent?" Retail credit cards usually ding their users with high interest rates. In fact, some retail credit cards charge a variable purchase APR of 26.74 percent, compared to variable purchase APR of around 15 percent for traditional cards. Moving this debt to a low-interest credit card can save you in interest charges, and the idea is that may enable you to pay off the balance much quicker, providing you manage your credit card account responsibly.
5. Consider a personal loan.
Assuming that you're in good standing credit-wise (you can check your free credit score monthly with Credit Sesame), this consolidation option could land you better terms than what you're currently getting from your credit card. While personal loans generally have higher interest rates than those that you put up collateral for (mortgage, auto loan), for those with good to excellent credit they may offer a lower interest rate than your plastic — meaning that they could end up being ultimately better for your bottom dollar. However keep in mind having a credit score in a particular range is not a guarantee that you will be approved for credit or a loan or for the terms you applied for. Approval and the terms and conditions you are offered are based on a number of factors. Lenders, credit card issuers, and other financial institutions use a variety of different types of credit scores and other criteria to make credit and lending decisions.
 6. Use cash.
Adding new charges to your credit card can make it difficult to determine how much you still owe from the holidays. Until you get rid of all your debt, stick to paying with greenbacks or your debit card. Seeing that outstanding balance shrink each month may motivate you to work even harder to get it down to zero.
---
Advertiser Disclosure: The credit card offers that appear on this site are from credit card companies from which this site may receive compensation. This compensation may impact how and where products appear on this site (including, for example, the order in which they appear). This site does not include all credit card companies or all available credit card offers. Credit Sesame is an independent comparison service provider. Reasonable efforts have been made to maintain accurate information throughout our website, mobile apps, and communication methods; however, all information is presented without warranty or guarantee. The editorial content on this page (including, but not limited to, Pros and Cons) is not provided by any credit card issuer. Any opinions, analysis, reviews, or recommendations expressed here are author's alone, not those of any credit card issuer, and have not been reviewed, approved or otherwise endorsed by any credit card issuer. All images and trademarks are the property of their respective owners.
See the online provider's application for details about terms and conditions. Offers are subject to change and the terms displayed may not be available to all consumers. Please visit the provider's site for current information and verify all terms and conditions of any offer prior to applying.
Responses are not provided or commissioned by the bank advertiser. Responses have not been reviewed, approved or otherwise endorsed by the bank advertiser. It is not the bank advertiser's responsibility to ensure all posts and/or questions are answered.
Disclaimer: The article and information provided here is for informational purposes only and is not intended as a substitute for professional advice.