If you're looking for ways to build credit, you'll undoubtedly hear the advice, "Get a credit card." In fact, most people can do that. Poor credit isn't even an obstacle; some secured credit cards are available with no credit check at all.
But not everyone wants to get a credit card.
A cash-only lifestyle is great for your budget. The problem arises when you want to apply for credit. Creditors need a way to determine how likely it is that you will repay your debt. They do that by reviewing your credit report and credit score. If you never use credit products, you can't demonstrate that you are able to handle credit responsibly. Your application might be rejected, or you might be offered very expensive terms.
Even if you prefer to avoid credit cards, you've got options. We know a few other ways to add positive data to your credit file.
Before you start building credit, check your credit report
You need to know where you stand. Order a copy of your credit report from each of the 3 credit reporting agencies: Equifax, Experian, and TransUnion. You can get a free copy from each agency every twelve months by visiting AnnualCreditReport.com.
Your free credit reports don't include your credit score but you can get that for free from Credit Sesame, along with your free credit report card. We'll tell you where you stand on the major factors that affect your score, and what you can do to improve your standing.
Without your credit report card, you might not know the best steps to take to build your credit. For example, one consumer might have a history of late payments, while another consumer has high credit card balances. Credit Sesame will point you in the right direction.
Even if you've never had a credit card or loan, it's still a good idea to pull up your report so you can check for errors. One in five consumers has errors on his/her credit report, and some of those errors are the kinds that lower the consumer's score (like an account that belongs to someone else or an open collection that was actually paid). If you see any mistakes, you can ask the credit reporting agency reporting the error to take it off your report.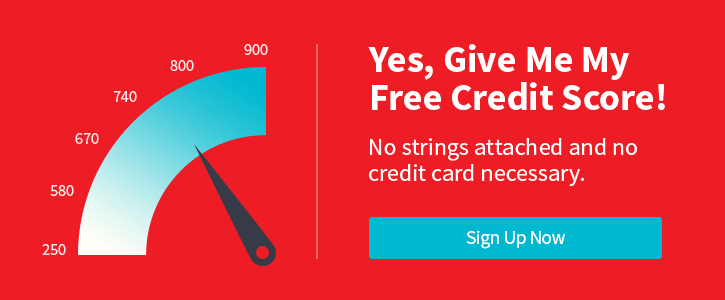 1. Apply for a bank or credit union loan
Apply for a small loan from your local bank or credit union, especially if you have maintained an account in good standing for a couple of years or longer. You might be directed to secured loan options, and some banks offer credit-builder loans that are just for building credit.  If you don't have an existing relationship with a bank, find an online lender in the Credit Sesame Marketplace.
As you pay the loan back on-time, your credit history and score should improve.
2.  Make student loan payments
If you have student loans, just making on-time loan payments will build your credit score and credit history. Student loan payments affect your credit score as much as any other loan does. Remember, that works both ways. Missing a student loan payment damages your credit.
If you've been paying your student loans responsibly for years, you might have a decent credit score without even knowing it.
3. Become an authorized user on someone else's account
If you know someone who does a great job managing their credit card, you can ask to become an authorized user on their account. This means you get a credit card that shares the primary cardholder's credit limit. You can become an authorized user even if your own credit history is weak.
So long as the other person pays the bill responsibly every month and keeps the balance low in relation to the credit limit, your score might benefit. This strategy works even if you cut up the new card to avoid spending on the other person's account.
This strategy only helps you improve your credit standing if:
The primary cardholder manages the account responsibly
The card issuer reports authorized users to the credit bureaus (not all do)
You use the account as a stepping-stone to obtaining credit products of your own. That's because since authorized users are not responsible for paying the bill, the account may not heavily influence your credit profile.
4. Contact your utility providers
Most utility providers (electricity, gas, cable TV, internet, etc.) only report delinquencies to the credit bureaus, not on-time payments. Some do report positive payment history, though, so take a moment to call your provider and ask. If you're in Michigan, you're in luck. DTE Energy reports all payment history, positive and negative, to the three major credit bureaus. (If your utility provider reports to the credit bureaus, please let us know.)
If your provider reports positive data, the effect on your score depends on how the account is reported. At the very least, it will show whether you responsibly manage this monthly bill.
Even if your provider does not report positive payment history to the credit bureaus, your account probably shows up on a specialty industry credit report. For example, the National Cable, Telecommunications and Utilities Exchange (NCTUE) is a specialty credit reporting agency that maintains and shares information about accounts with more than sixty large telecom and utility companies that are members. What this means is that when it comes time to move, your account history will probably follow you to your destination, even in a new area.
Whether or not your provider reports positive data, you can usually request a letter of reference to use in support of a credit application (such as that bank loan).
5. Report rent
If you rent your home, you can add your positive rent payment history to your credit report. Some large corporate landlords already report. If your landlord doesn't, register with a third-party website like Rental Kharma or Rent Reporters. Your landlord will need to verify your rent payments each month.
If you don't want to rely on the landlord to verify payments, you can sign up with a rent payment service that works with Experian RentBureau. In that case, your rent will be paid through the service and no independent verification is necessary.
All three major credit bureaus will show your rent payments on your credit report if it is reported to them, but only the newest FICO® and VantageScore® scoring models factor rent payments into your credit score.
6. Apply for a peer-to-peer loan
Peer-to-peer loans are loans funded by investors rather than a bank or credit union. They are available online from companies like Lending Club and Prosper (find them in the Credit Sesame Marketplace). Your credit standing determines the terms, but the lending guidelines are generally not as stringent as banks' and credit unions'. In other words, you might be approved even if your bank turns you down. Peer-to-peer loans should appear on your credit report and factor into your score.
Passing on credit cards doesn't mean you can never have a credit history. Give these options a try, and keep an eye on your credit to make sure your efforts pay off in the form of reportable data.