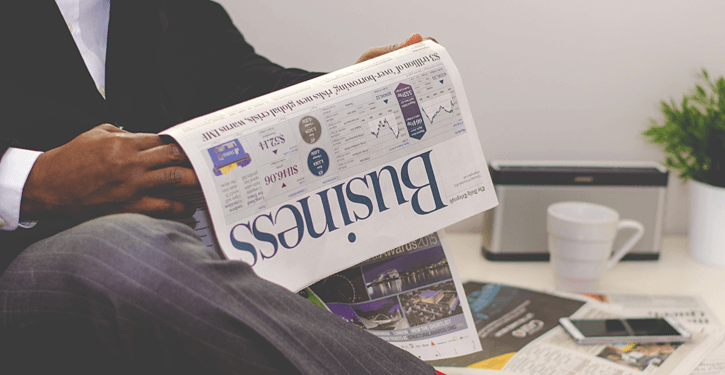 Maybe you've got a high-tech idea that will revolutionize an industry. Or you want to open a small business like a retail store or a hair salon. You can bank on your own personal credit early on, but at some point you may want to establish credit for your business. Separating your business from your personal life is a smart way to protect your finances.
Read this primer to find out the basics about business credit scores.
Why your business credit score is important
Just as an individual has a personal credit score (FICO® is the most widely used), businesses have business credit scores. Business credit scores are a tool that lenders use to determine a company's creditworthiness (the likelihood that the business will repay its debts).
You'll need a business credit score for a business loan (otherwise it's a personally-guaranteed loan for business purposes; there's a difference). Businesses with good or great credit scores are more likely to be approved for financing and they receive lower interest rates on their loans. Other advantageous terms that may be offered to businesses with higher credit scores include longer repayment periods and higher credit limits.
How to check your business credit score
Three major business credit bureaus calculate scores: Dun & Bradstreet®, Experian®, and FICO®. Dun & Bradstreet® assigns businesses a Paydex® score. Experian's scoring model is called Intelliscore Plus℠. FICO® offers the Small Business Scoring Service (SBSS). Each bureau uses a unique algorithm to determine a business's score. Lenders decide, based on the score and other factors, whether the business is worthy of credit.
Dun & Bradstreet® Paydex®: Payment data is combined with a credit score and a financial stress score to determine your risk for late payments (low, medium, high). Vendors and suppliers rely on this score. Generally speaking, the lower a business's risk, the more generous trade credit it will receive (meaning more time before a bill is due).
Experian® Intelliscore Plus℠: Credit information of both the business and the proprietor is used to judge the probability that the business will fall delinquent within a year. The score correlates to a risk category, ranging from low (risk class 1) to high (risk class 5).
FICO® SBSS℠: Business and personal credit history is used to calculate this score. More than 7,500 lenders and the U.S. Small Business Administration consult the FICO® SBSS℠ to evaluate applicants.
Business credit score range
Personal credit scores usually range from 350 to 800. Business credit scores each follow their own scale.
Dun & Bradstreet® Paydex®: 0-100
Each number indicates the average number of days the business pays its creditors. For example, a 91 means the business pays an average of 21 days early.
0-49: High risk of late payment
50-79: Medium risk of late payment
80-100: Low risk of late payment
Experian® Intelliscore Plus℠: 0-100
Blends business, market and consumer data
1-10: high risk of delinquency in the next 12 months
11-25: medium-high risk of delinquency in the next 12 months
26-50: medium risk of delinquency in the next 12 months
51-75: low-medium risk of delinquency in the next 12 months
76-100: low risk of delinquency in the next 12 months
FICO® SBSS℠: 0-300
Like a personal FICO® score, higher is better
140 is the minimum score required to be eligible for a Small Business Administration loan from the federal government
160 is the minimum set by many lenders for consideration for credit
How your credit score is calculated for a business loan
Numerous data points about a business are used to calculate a business credit score, including:
How much is owed to lenders and suppliers
Legal filings and public records, such as bankruptcy and tax liens from local, county, and state courts
Credit utilization
Payment history
Company size
Company age
Length of credit history
Company background information
Industry benchmarks
Market data
How to improve your credit score so you qualify for a business loan
Establishing and maintaining a good business credit score is quite similar to managing your personal credit score. Businesses in good credit standing:
Keep their utilization rate low. Businesses with strong credit only use about 25 percent of the total amount of credit available to them.
Pay bills on time (or early). Businesses with great credit have great payment habits to all creditors, suppliers, utility companies, and so on. Remember, Paydex® scores are higher for businesses that pay early.
Open multiple lines of credit. The best way to prove you are responsible with credit is to have and use credit products. A business that responsibly uses credit cards, loans and lines of credit with suppliers proves that it is a trustworthy borrower.
Building great credit takes time, and negative events can have a lasting impact on business credit scores.
How to get a free business credit score
The Fair Credit Reporting Act that entitles consumers to free credit reports every year does not apply to businesses. Likewise, there is no law that entitles consumers or businesses to free credit scores. Free business credit reports and scores are quite a bit harder to come by.
We only know of one place where you can get a free business credit score from all three agencies, and that is Nav.com. They also offer a free summary of all three business credit reports.
Dun & Bradstreet offers a free service called CreditSignal® to monitor changes to your business credit score and ratings. The services does not provide scores.
You can also get a free credit report if apply for credit and your application is denied, if the vendor notifies you of the rejection and tells you which credit report they used.
All three business credit bureaus offer reports and scores for a fee.