The holiday debt hangover struggle is real. The sad truth is that last fall an alarming number of consumers were still pay off debt racked up from holiday spending from 2016. No bueno.
But did we shoppers learn our lesson? Apparently, no.
Despite the fact that holiday debt is a growing problem, a Google Survey we conducted in early 2018 reveals that one in five shoppers admit to going over their spending budget this holiday season.
We reached out to more than 1,000 U.S. consumers. Here's what we found:
3 Key Findings
1. Women are more likely to overspend than men (or at least to admit it)
Twenty-four percent female respondents said they exceeded their budget, compared to only 20
percent of males.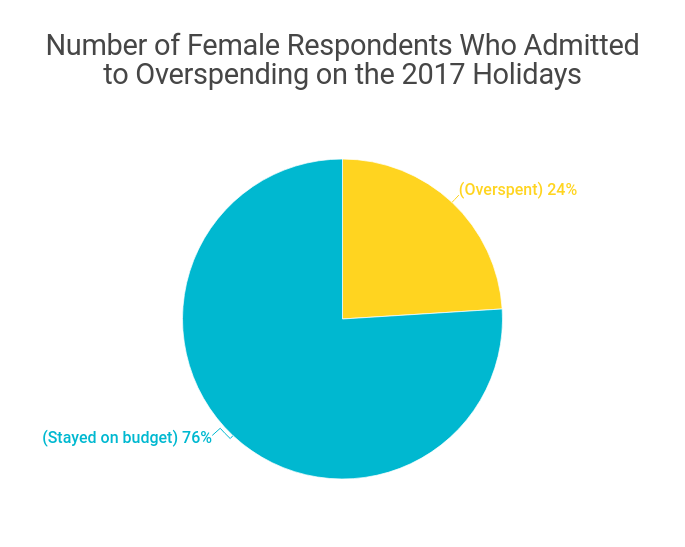 This is too bad because women already carry a heavier debt burden than their male counterparts.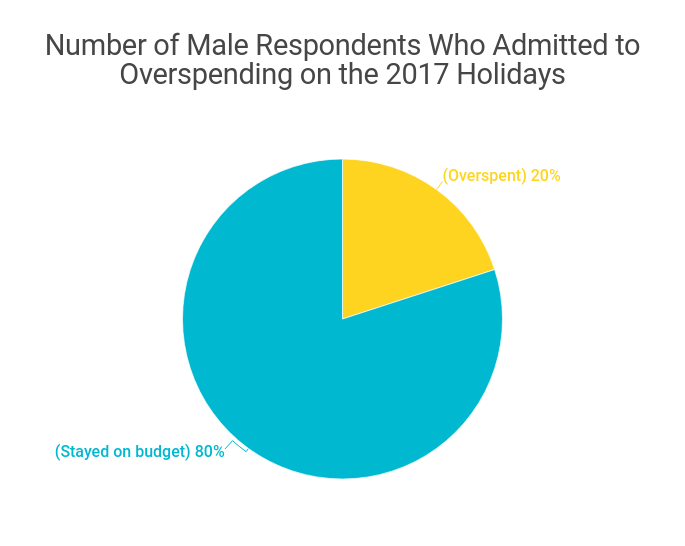 Overspending in general can be attributed to many causes, including failing to anticipate all holiday-related expenses, making impulse buys, or procrastinating to the last minute and, as a result, having less opportunity to comparison and bargain shop.
2. Baby Boomers went over their budget the most
Among the different age groups, respondents aged 45 to 54 were most likely to say they went over their holiday budget (27 percent), while those of the Golden Generation (ages 65 and older) were least likely to overspend (12 percent).
Millennials, who have been blamed for not saving enough for retirement because they splurge on avocado toast, were fairly prudent. Only 22 percent said they were most likely to have spent too much over the holidays.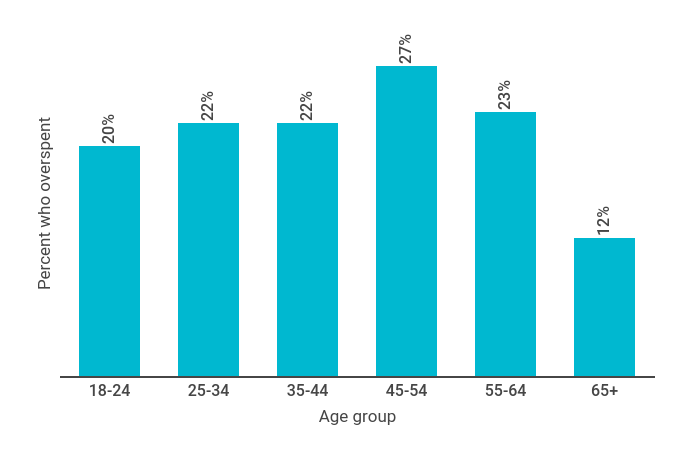 If we break down the different age groups by gender, we found some interesting tidbits:
The group most likely to say they have exceeded their holiday shopping budget were 45 to 54 year old women (31 percent), while least likely were 65-and-older females (10 percent).
Furthermore, the oldest generation (65+) is the only one where women were less likely than men to say they have exceeded their holiday shopping budget (10 percent and 14 percent, respectively).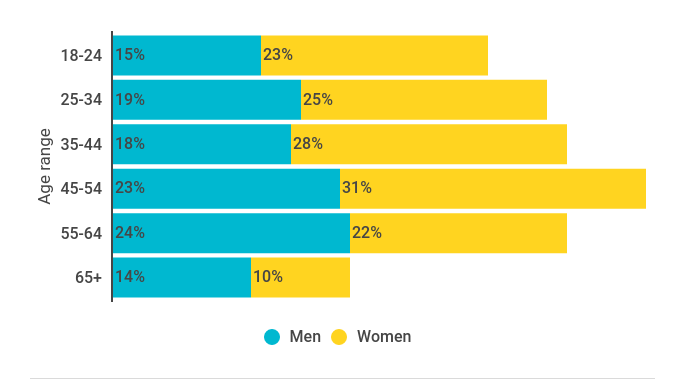 3. Midwesterners were most likely to go over their budget
Let's get regional, shall we?
While regional differences weren't terribly dramatic, we did find that Midwest respondents were more likely to say they overdid it with holiday spending (24 percent) compared with Northeast denizens (20 percent).
| Did you exceed your holiday budget? | Yes | No |
| --- | --- | --- |
| Midwest | 24% | 76% |
| Northeast | 20% | 79% |
| South | 21% | 79% |
| West | 23% | 77% |
Interestingly, 2 percent of males in the Northeast committed the money cardinal sin of not having a budget to start with.
Breaking it down by gender, well over a quarter of women in the West and Midwest (28 and 27 percent, respectively) admitted to exceeding their budgets. Nineteen percent of men in the West and 21 percent of the men in the Midwest said they overspent.
The group who was least likely to say they went overboard was men in the Northeast (16 percent).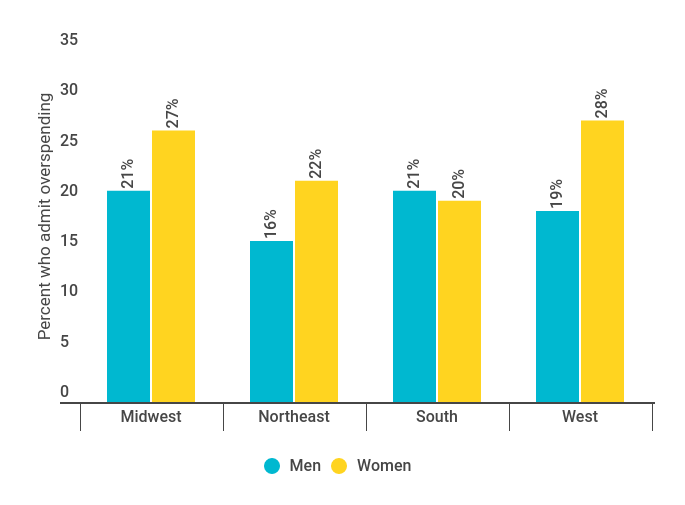 If we're talking about biggest wins and fails, the West do it best.
Eighty-one percent of men in the West said they stuck to their budget, as did 80 percent of Southern women.
To avoid holiday debt the next time around, here are some tips for staying within your budget:
2018 Holiday Spending Plan in 5 steps
1. Create a detailed holiday budget
It's never too early to start planning.
Go through your holiday season credit card and bank transactions to see how much you spent last year.  That will help you create a detailed breakdown of all your holiday-related spending, including gifts, social gatherings, cards, decorations, and travel.
Make a gift list, along with ideas and a budget for each person.
If you don't get granular, you run the risk of falling into the "I don't care how much this costs, the holidays only happen once a year" trap.
Do yourself – and your wallet – a big favor. Get into the nitty-gritty with your budget.
It also doesn't hurt to add a bit of padding.
2. Save now and every month
Don't wait until the 11th hour. The debt gods are unforgiving to those who wait until the last minute to save. Create a savings account, and if you can swing it, set up an automatic transfer to help you stay on track.
3. Shop year-round
If you really want to lower your holiday spending, start keeping an eye out for gifts to buy and stash throughout the year.
Everyone knows that the holidays are coming. They come every year. So why is it that so many of us fall into a last-minute shopping frenzy, running around like chickens with our heads cut off?
If some gift ideas can be purchased beforehand, those purchases will relieve your spending burden come December. This also gives you plenty of time to comparison shop and jump on deals.
4. Be flexible
When the holidays roll around, look at your budget first. If you feel short, find ways to make the goal more achievable. Can you wear the Christmas-y dress you already have in your closet, rather than purchase new festive attire? What about baking cookies instead of buying Starbucks gift cards?
5. Remember your points
The holidays are a great time to redeem credit card reward points you've racked up during the year. You can use them toward travel, gifts for friends or family, or for holiday outings.
Wrap-Up
It's easy to get carried away with holiday spending. Millions of people do it.
Make a change.
Get organized, set a goal and give it a try.
The time to plan for 2018 is now.  Banish the debt monsters.