Credit Sesame ideas for holiday shopping in a high inflation year aka 2022.
The worst inflation in over 40 decades has made it hard for Americans to make ends meet this year. And yet, people are already gearing up for their annual holiday shopping spree. It's as certain as snow in the north, holiday songs on the radio and "It's a Wonderful Life" on the television.
Still, many Americans are heading to the stores (on the high street, at the mall or online) with tighter budgets and higher debt balances. Holiday shopping for many is going to be different this year because it is a high inflation year.
How can you give family and friends great gifts without making spending decisions you regret by the time the clocks strike midnight on New Year's Eve?
Do consumers increase debt during the holiday season?
The impact of holiday shopping can be seen in consumers' credit card balances. Every year, people pile on credit card debt in November and December, and then spend the first few months of the year trying to pay off this debt.
The following chart is compiled from Federal Reserve consumer credit data. It shows the average monthly credit card debt (50 years, 1972 through 2021).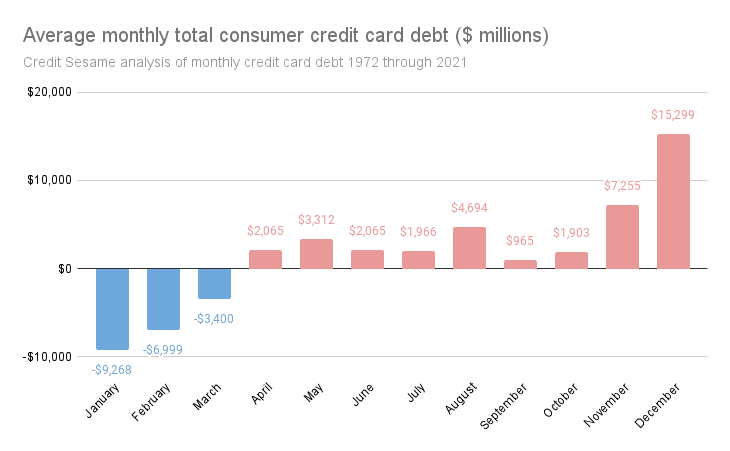 Credit card debt tends to soar in the last couple of months of the year. People then spend the first three months of the year paying down credit card debt. In between, they take on more moderate amounts of debt.
Unfortunately, the numbers don't even out. When you calculate the net total of the positive and negative numbers, Americans have added an average of $19.8 billion in credit card debt per year. Last year, the net credit card debt increase was $67.1 billion.
It appears that when people go on their annual year-end holiday shopping binge, they take on more debt than they can pay off the following year. As a result, their debt balances grow over time, which takes away from the money they have available to spend the following year.
In 2022, Americans had a record $1.12 trillion in credit card debt even before the holiday shopping season began. And interest rate increases have pushed credit card rates higher, raising the cost of that debt.
Of course, you may still choose to buy gifts this holiday season, but consider breaking the pattern by not spending more than you can afford to pay off in the first few months of the next year. Here are a few suggestions on how to do that.
1. Budget, research, spend
Spend less by starting the holiday shopping season with a budget. Figure out the total amount you know you can afford to pay off by the end of March next year. That's your budget for all the people on your shopping list.
At the same time, do some research into the items you would like to buy if budget were not a constraint. Prices have been rising quickly this year, so you need current pricing.
That research gives you realistic expectations about what you can afford before you start to shop. It's quite common for holiday shoppers to buy things that cost more than they can afford because, "oh well, it's the holidays." It's much better to limit your list to things you know you can afford.
When you have a well-research shopping list and budget you are ready to start shopping.
2. Don't fall for sale hype
Pre-holiday sales, Black Friday and Cyber Monday are marketing inventions designed to make people feel they are capturing an opportunity to find special bargains. Often, there's more hype than cost-saving in those promotions.
Don't jump because a retailer calls "SALE!". Let your research guide you. If you know what things cost normally, you can distinguish between a flashy display and a sale with meaningful price reductions.
3. Comparison shopping is key
The effect of supply chain disruptions has reduced over the year, but there are still shortages of some items. This makes comparison shopping more important than ever.
Retailers experience supply chain issues in a variety of ways. Shortages may have boosted prices at some, while others who have more stock can sell things more cheaply.
Interestingly, as supply chain problems have eased, some retailers who overreacted and scrambled to make up for shortages now have too much of some products. That could lead to some really good price reductions.
The point is, whether its because of shortages of some things or oversupply of others, supply chain disruptions may have widened the price differences between some retailers. That means it really pays to comparison shop – especially if you can do it online, rather than driving around from store to store at today's high gas prices.
4. Make a list with options
Fast-rising prices and supply uncertainties make it harder to be sure of what you may find once you start shopping. That's why it's good to have backup options for each person on your holiday shopping list.
If you have multiple gift options, you won't feel forced to overspend if something on your list is harder to find or more expensive than expected. Just buy that person something else on your list instead.
5. Substitute to make ends meet in a high inflation year
Substitution is a classic money-saver to cope with inflation. This means reducing your entire budget and making a list of lower-priced gifts for everyone. The 2022 holiday shopping season would be a timely occasion to practice this money-saving tactic. Don't forget everyone is in the same boat, and thoughtful gifts do not have to be expensive.
In this high inflation year you may find useful our Holiday Gift Guide series:
---
Disclaimer: The article and information provided here is for informational purposes only and is not intended as a substitute for professional advice.