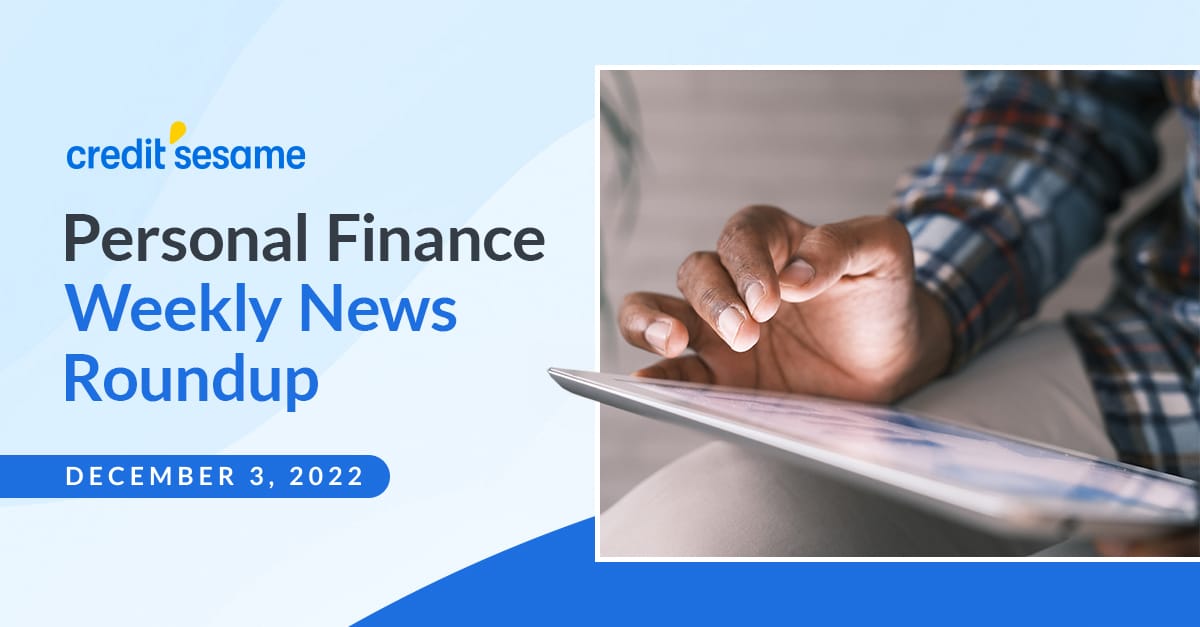 Credit Sesame's personal finance weekly news roundup December 3, 2022. Stories, news, politics and events impacting the personal finance sector during the last week.
1. Consumer confidence slips again
The Conference Board's Consumer Confidence Index declined from 102.2 to 100.2 in November. The index is based on survey responses from consumers about how positively or negatively they view the economy. November's drop was the second consecutive monthly decline, and the index generally has been trending down since the middle of last year. Consumers are much more pessimistic about the months ahead than they are about the current economy. The survey measures attitudes towards both the current situation and expectations for the near-term future. While the Present Situation Index is at 137.4, the Expectations Index is at 75.4. When the Expectations Index dips below 80, it is thought to signal a serious threat of recession. See full release at Conference-Board.org.
2. FBI issues warning on holiday scams
An FBI field office in El Paso issued a special alert to consumers about the heightened risk of being scammed at this time of year. Scammers use a variety of approaches, many of which are targeted towards cash-strapped people looking for great deals or extra income to help ease their holiday expenses. According to the FBI, common scammer come-ons include special offers on consumer goods and travel, surveys and promotions on social media, work-from-home schemes, gift card offers and charitable appeals. See news release at FBI.gov.
3. Black Friday sales may have beat inflation but not expectations
An early indication of Black Friday shopping activity suggests consumer spending was up by more than the rate of inflation compared to last year. However, the rate of increase was lower than projected. The Mastercard Spending Pulse survey found that Black Friday retail sales were up 12% over last year. That's below the 15% increase Mastercard had originally projected. Restaurants and apparel sales did better than the overall increase. Restaurant receipts were up by 21%, and clothing sales were up by 19%. See article at PYMNTS.com
4. Expect a tougher time returning gifts this year
A survey of retailers found that 60% of them have introduced stricter return policies. This is in response to a rising volume of returns. 73% of retailers surveyed said the volume and cost of returns was a problem for their business. Retailers expect 18% of items sold during this year's holiday shopping season to be returned. One example of how return policies are becoming less forgiving is that the amount of time allowed for an item to be returned is getting shorter. Another example is that some retailers are introducing restocking fees on returned goods. See article at CNBC.com.
5. U.S. economy better than previously thought in 3Q 2022
The Bureau of Economic Analysis released its second estimate of third quarter U.S. Gross Domestic Product on November 30. This estimate showed that the economy grew at a 2.9% annual rate in the third quarter, after adjustment for inflation. This was higher than the preliminary 2.6% figure from the advance estimate last month. This unexpectedly strong showing runs counter to the widespread concern that sharply higher interest rates will snuff out economic growth. See full release at BEA.gov.
6. Home prices continue to decline
The S&P CoreLogic Case-Shiller National Home Price Index declined for the third consecutive month. This puts the index 2.6% below its peak. However, this recent downturn has done little to make home prices more affordable. The index is still 10.6% higher than it was a year ago. Meanwhile, mortgage rates have more than doubled since then. See full release at SPGlobal.com.
7. Mortgage rates fall for a third consecutive week
Both 30-year and 15-year mortgage rates fell last week. For each, that marked the third week in a row that rates declined. 30-year rates are now at 6.49%, which is 0.59% below their peak. 15-year rates are now at 5.76%, which is 0.62% below their peak. Even so, the recent decline only slightly offsets the strong upward trend of mortgage rates in 2022. 30-year rates have risen by 3.38% so far this year. 15-year rates are up by 3.43% in 2022. See mortgage data at FreddieMac.com.
8. Home sales continue their slump
The cost of buying a home continues to affect home-buying activity. The National Association of Realtors' Pending Home Sales Index fell by 4.6% last month on a seasonally-adjusted basis. That marked the eleventh monthly decline in the past twelve months. In total, pending home sales have now fallen by 37% over the past year. The Midwest region was the only bright spot in the most recent month of data, with a 3.3% gain. However, like the other three regions in the national Pending Home Sales Index, the Midwest region has seen a steep decline in activity over the past year. See news release at NAR.Realtor.
9. Job growth continues to be steady
National employment rose by 263,000 jobs in November. That's closer than the average for the prior three months, though less than the average for 2022 so far. The unemployment rate remained at 3.7%, which is close to the 50-year low of 3.5%. The biggest areas of job gains were leisure and hospitality, health care and government. The labor force participation rate held steady, but remains slightly more than a full percentage below its pre-pandemic level. That rate measures the percentage of the adult civilian population that is either working or actively looking for work. See full release at BLS.gov.
Weekly News Headlines from Credit Sesame
Join The Discussion
Become a vital part of the SesameThrive community and share your experiences and insights.
You can trust that we maintain strict editorial integrity in our writing and assessments; however, we receive compensation when you click on links to products from our partners and get approved.
Published December 3, 2022
•
Updated: December 10, 2022
Related Links