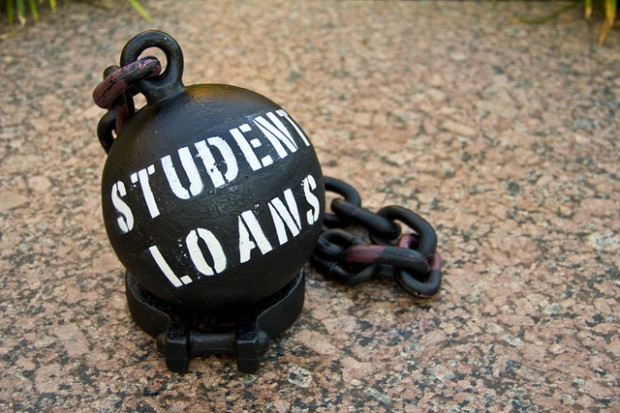 According to the Institute for College Access & Success' Project on Student Debt, the average college graduate is carrying around $29,400 in student loan debt. Of those student loans, almost 12 percent of them are 90 days or more past due, according to the Federal Reserve Bank of New York, which is more than any other kind of household credit.
It's no question that student borrowers need help with student loan debt, but is refinancing the answer? Possibly.
Refinancing a student loan is similar to refinancing a home loan: The better your credit and credit score, the greater the chance you have for landing a lower interest rate.
Consequently, refinancing isn't for everyone. If your credit is poor, it's unlikely that you'll qualify for a refi — or if you do, you certainly won't get a better interest rate than what you may have currently. In which case, it's best to stick with the loan terms that you already have.
If you have good credit, however, you only want to consider refinancing your student loans if your interest rate is going to decrease. After all, it is possible to reduce your monthly payment simply by extending the length of your loan (in which case, your interest rate could remain the same or even be higher), but that would end up costing you more in the long term.
A word of warning when refinancing your student loan: Make sure you consider the protections you might be giving up by refinancing. If you refinance a federal loan, you're turning it into a private loan, which means that you lose the ability to qualify for an Income-Based Repayment Plan or have the loan forgiven through the Public Service Loan Forgiveness Program. Additionally, it's important to note that most federal loans have a fixed interest rate that won't change during the lifespan of the loan, whereas a private loan often has a variable rate, which could increase at some point in the future.
If you're looking to refinance a private student loan, be aware that only a few lenders offer this service. Back in January, RBS Citizens Financial Group (which runs Citizens and Charter One banks) introduced the Education Refinance Loan. This refi is fee free for borrowers, has a fixed interest rate as low as 4.74 percent (the variable rate starts at 2.9 percent) and you don't need to be a customer of either bank to apply. While this sounds like a good deal, there's a catch. Only borrowers with a private loan are eligible. (Those who don't qualify include those with Direct loans or Perkins loans.) SoFi, a financial company that focuses on student loans, will refinance both federal and private loans, and national bank Wells Fargo also offers a refinance option with their Private Consolidation Loan.
The bottom line? Refinancing student loans isn't a one-size-fits-all option for borrowers.
Image: Andrew Bossi