This content is for informational purposes only and should not be relied on as financial advice. The payment estimate is calculated according to the second stimulus package, however, actual payment amounts may vary.
With the potential for $1400 stimulus payments to hit consumers' bank accounts in the coming weeks or arrive in the mail, we wanted to see what kind of impact these funds could have on consumers' financial situations if applied, in full, to their total outstanding credit card debt. 
In short, we found the results of this one action could be pretty significant. 
70% of those with "poor" credit could boost their score by an average of 21 points
*
Using our score simulator, we reviewed more than one million of our members' credit scores to examine the potential impact of using the stimulus checks to pay down $1400 in total outstanding credit card debt. According to the data, 70% of those with a credit score between 300-500 could see their score increase by an average of 21 points within a month if this is the only action they take regarding their credit. Moreover, half of the Credit Sesame members within this credit score band could experience an average boost of 26 points from paying down $1400 of their total credit card debt. And half of those with a credit score between 501-550 could see an average increase of 22 points. 
Below is a breakdown of how paying down $1400 in credit card debt—and no other actions—could impact different credit scores.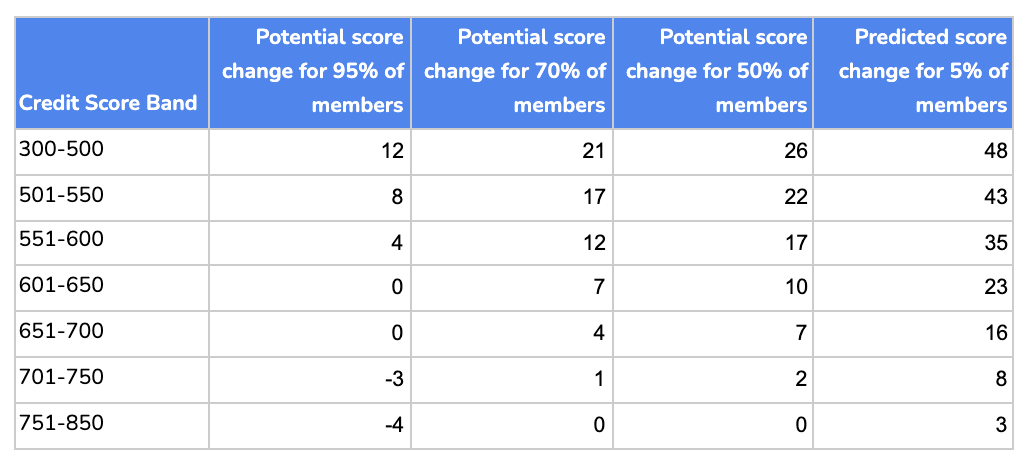 Exactly how this could impact your credit score depends on several different factors, including the length of your credit history, number of accounts, total debt, paying bills on time, keeping credit balances low, avoiding unnecessary inquiries, and developing better credit habits. For example, if you only have $2000 in debt and a short credit history, you could see a bigger impact to your score by paying down $1400 of your total credit card debt, than if you had $5000 in debt and a few missed payments.
A 26-point boost could be life-changing if you have poor credit. For example, it could help you secure an auto loan with a lower interest rate (saving thousands of dollars over time) or qualify for an FHA loan to buy a home for your family. 
A higher credit score could also provide more opportunities to unlock additional credit, such as adding another credit card to use as a buffer in case of an emergency. It can also help you qualify for lower interest rates, which means you can keep more cash in your pocket instead of paying it back in interest.
Improving your credit score can get you even more cash
What if you could turn your $1400 stimulus check into $1410, $1420, or even $1500? With Sesame Cash, an online banking account that offers cash rewards for improving your credit, you could earn up to $100 just for improving your score**. 
So when you pay down your debt, you could free up credit, improve your score, and earn more cash all at the same time. It's a win-win-win.
Also, If you're expecting to receive a paper check in the mail (rather than direct deposit), avoid paying fees*** on your money by depositing it for free into a Sesame Cash account! Sesame Cash charges no monthly fees and helps you keep more of your money for the things that matter most. 
Other tips to help boost your credit score
Strive to make at least minimum payments on your bills: Payment history makes up 35% of your credit score, so making on-time payments will help build up your credit score. Missing a payment can have a significant impact, especially on those that have a short credit history.  If you don't think you'll be able to afford to make your payments, contact your bank or lender in advance to work out a payment plan and get the agreement in writing. This can help protect your credit score and give you some peace of mind. 
Keep your credit utilization as low as possible: Try to stay under at least 30% of your total credit limit each month—even better if you can keep it under 10%. This means if the limit on your card is $1,000, then you ideally want your balance to be under $300. This is why paying down some of your credit card debt with the stimulus payment could help boost your score. It also helps free up more credit in case of an emergency. 
Don't close an account once you've paid it off: If you've just paid off an account, congratulations! But don't rush to close it. The age of your credit also impacts your score. Keeping older accounts open can increase your average credit age.
Monitor your credit report and dispute any errors: It's important to monitor your credit report at least annually to make sure there are no errors. If you see an error, you need to dispute it and clear it up as soon as possible. Otherwise, the error could negatively impact your credit score. Credit Sesame can help you monitor your score and sends you alerts when something on your credit report changes.
Be patient with negative information: No matter how hard you try to improve your credit score, life may throw you a curveball (in this case, a pandemic). If any negative information gets on your credit report and it's correct, it should disappear after seven years. If you have a good payment history and end up with a negative mark, oftentimes the credit bureaus can be forgiving since they understand everyone makes mistakes. If you have a one-off on your credit report, try reaching out to the bureaus to ask for a one-time forgiveness.
* The score changes presented in this report are only rough estimates and rely on the assumption that you are also paying your bills on time, keeping your credit balances low, and avoiding multiple inquiries. However, Credit Sesame does not guarantee you will experience these results, and you may even see a decrease in your credit score. Any credit score improvement is the result of many factors, including paying bills on time, keeping credit balances low, avoiding unnecessary inquiries, appropriate financial planning, and developing better credit habits.
** This is a limited time offer. To be eligible for cash rewards, a deposit of $25.00, every 30 days, must be made into your Sesame Cash account. Rewards earnings are available for credit score improvements of ten points or more within a 30-day reward cycle. Improvements are calculated from your baseline credit score, as determined by Credit Sesame. Please review the full program terms for more details.
*** International and out-of-network cash withdrawal fees apply. Third-party and cash deposit fees may apply.